What are domain aliases in cPanel
Answers to your most common questions
The following article is about setting up a domain in your cPanel hosting package.
When you have completed the configuration of the domain in the HIS and linked the domain with your cPanel, you can now manage the domain in the cPanel. To do this, go to cPanel under "Product management" in the HIS.

Then click on "cPanel Login" and then on "cPanel Administration".
You are now on the management level of your cPanel package. There you will find the category "Domains".
Site Publisher: This is an application which was developed for the administration of websites.
Addon domain: Here you can host an additional domain via your cPanel. This is saved by the system as a subdomain of your main website.
Domains: Manage your domains that you have linked to your cPanel.
Subdomains: This is a part of your website that can exist as a new website without a new domain name. An example would be blog.testdomain.de and www.testdomain.de/blog, with the subdomain the page would be accessible under Links.
Aliases: Allows you to access your website using a different domain name. So it is possible that www.testdomain.net and www.testdomain.org the same content of the website www.testseite.de Show.
Diversions: Allow you to redirect one domain to another.
Zone editor: [TBD]
Add another domain
If you would like to link another domain to your cPanel, you can do this under "Add-on domains".
Here you also have the option of having FTP access set up for the new domain.
Alias ​​domain
If you want to add a domain alias to your main domain or edit an existing domain alias, you can do this under "Aliases".
You can create a new alias as follows: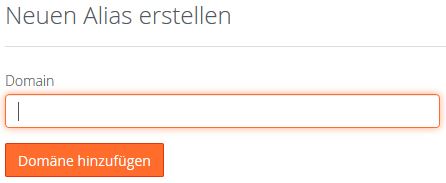 Danger: Domains can only be used as aliases after you have pointed the DNS entries to your cPanel package.
However, if you want to forward the domain alias then click on "Manage redirection" for the created alias. Here you can now enter your target domain to which you want to redirect.
Diversions
If you want to forward your domains that you have linked to the cPanel, then you can do this under "Redirects".
Here you can either redirect all domains that are linked to the cPanel to another domain or only individual ones. if you want to redirect all then select "** All Public Domains **".
Create subdomain / subdomain
If you want to create a subdomain to your main domain, you can do this under the item "Subdomains".
Please note the following with subdomains:
A subdomain must be created under an existing domain in your cPanel account. For example, if you have "testdomain.de", you can add "bilder.testdomain.de".
Subdomains use their own directory and do not refer to the directory of the main domain.
Important: So that a subdomain that you have created in the cPanel can also be called up, it is important that you store the subdomain in the DNS. You can do this in the HIS under the following menu item:
Product administration - Domain services - Domain administration - Edit name server / DNS entries
Here you either create the subdomain directly as a CNAME or save a wildcard subdomain. It would look like this:
If your domain is externally with another provider, you have to save the DNS entries there.
---
Was this article helpful to you?
Yes No
Thank you for your feedback!