What is your favorite Larrivee guitar model
Test: Larrivée Nashville Mahogany Series D-02
by Dieter Roesberg,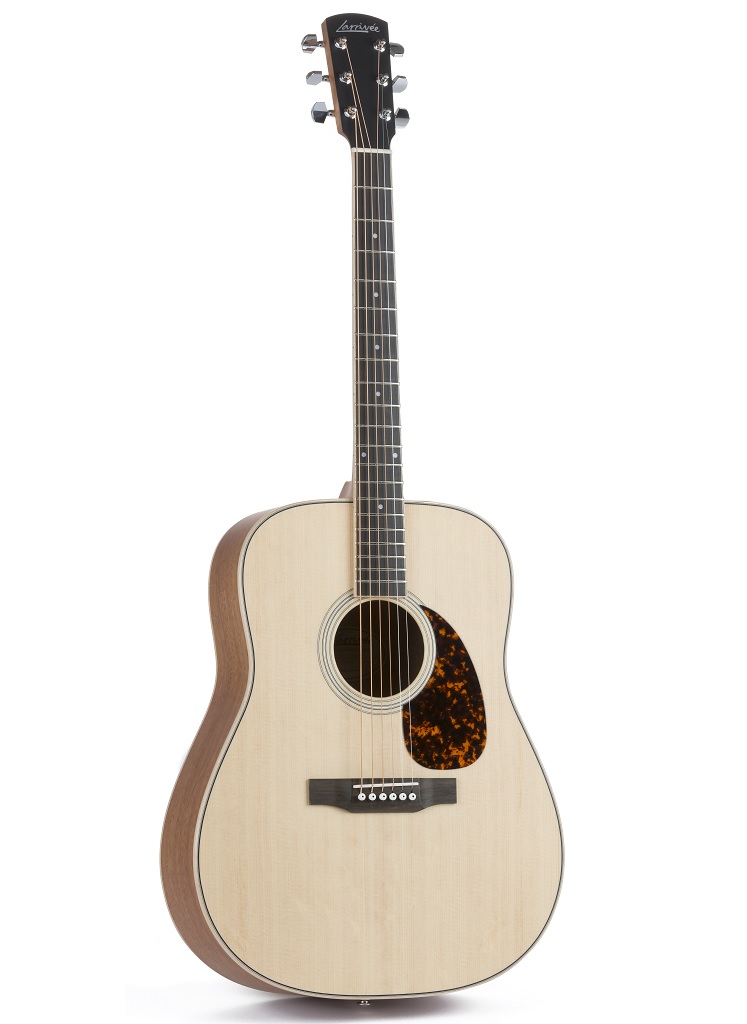 Jean Larrivée has been in business for over 40 years. The family business from Canada, now based in California, is one of the legends of American guitar making and has always impressed with its independence.
John is a bit stubborn and stubborn, but otherwise an incredibly nice, personable man. I had visited him a few years ago in his factory in Oxnard, and his motto during the company tour was: "I'm the only one who can do it".
Larrivée guitars are only made from the best solid woods available - plies, laminates (layered) or synthetic woods are never used in construction. FSC wood is used and work is carried out as selectively as possible. Larrivée: "We like to be in the forest. We start building an instrument on the forest floor. "
The Dreadnought D-03 is one of the classics in the Larrivée range. The D-02 that is being tested here is based on this model and comes from the Nashville series. There are always different models in time-limited editions that do not appear on the official website. It is a series that is always cheaper and refers to a higher-quality series - in this case the 03-Recording series - whose main features take over, but in a slimmed-down form. The current D-02 essentially corresponds to the successful D-03 model, but is a bit simpler overall in terms of binding, lacquer and wood selection.
The formula for the D-02: Set-in neck made of African mahogany with ebony fingerboard, Sitka spruce top, African mahogany back and sides, body edges and neck with light wood binding. The woods are natural and have a completely satin finish. There are also saddle and saddle made of bone, an ebony bridge with plastic plugs and encapsulated mini mechanisms.
HAPTICS
The back of the neck has a flattened D-shape and is comfortably thick at just over 22 mm. The flat 16 ″ radius also makes the guitar easy to play, regardless of whether it is normal fingering or barre chords. Coated D'Addario strings with a strength of .012-.053 are wound ex works. The string action is also perfectly adjusted, as are the wonderfully polished and perfectly dressed nickel silver frets. How come? The new German sales force has each model revised by a PLEK system. You see it and you feel it.
DOES IT SOUND?
Larrivée modified the classic X-Bracing developed by Martin according to his sound ideas very early on: His guitars stand for clear highs, subtle, soft mids and very full bass. It's an E major guitar, this chord comes out full and firm with full bass. (For comparison: Gibson Jumbo has this in D major, a Martin in G major). The sound is confirmed by the choice of wood, the mahogany body provides warmth but also fullness. A guitar for strumming, but also fingerpicking and bluegrass. The notes have a medium sustain and a good percussive response.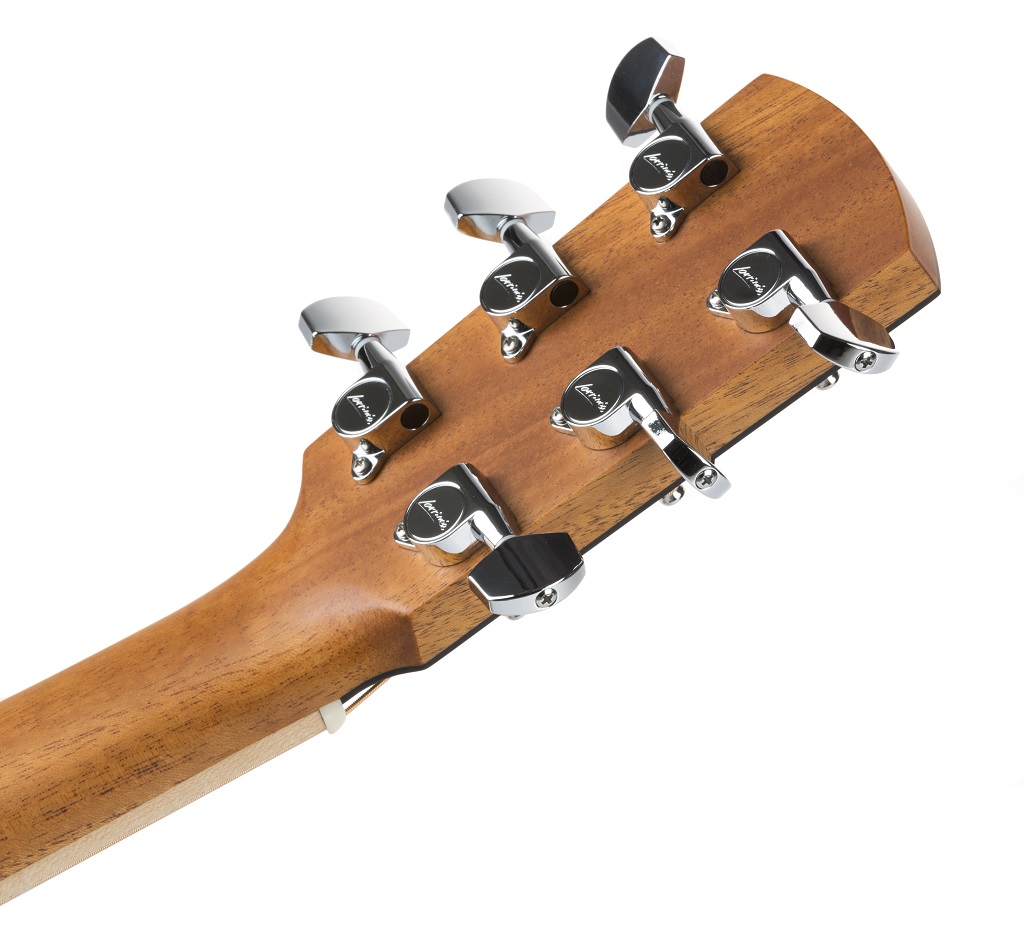 (Image: Dieter Stork)
SUMMARY
Larrivée is still mentioned in the same breath as Martin, Gibson, Guild (and more recently Taylor). These are the manufacturers who shaped American guitar making. And despite all the innovations and changes, one thing has not been forgotten: tradition and sound. The Nashville series Larrivée D-02 is a great example of a modern dreadnought with ancient roots.
PLUS
● Dreadnought sound á la Larrivée
● Model for songwriters & fingerpickers
● PLEK processing
● Processing
● Use of FSC woods
● Playability
● Intonation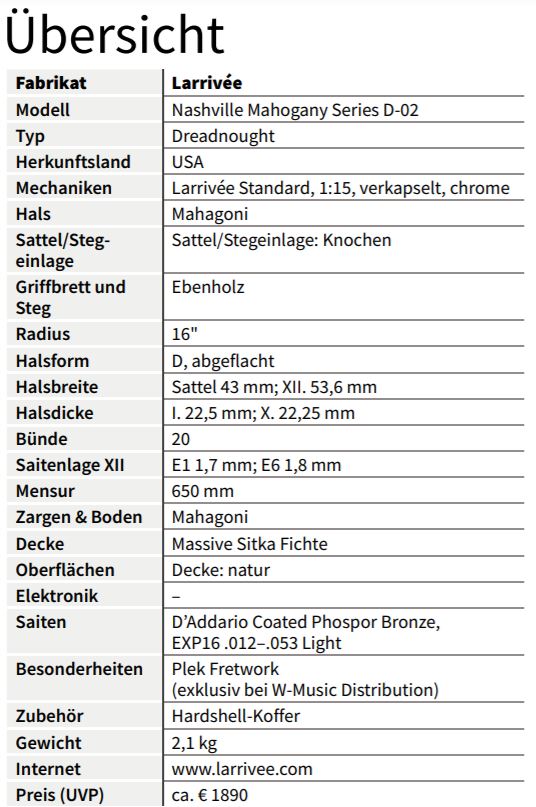 ---
HISTORY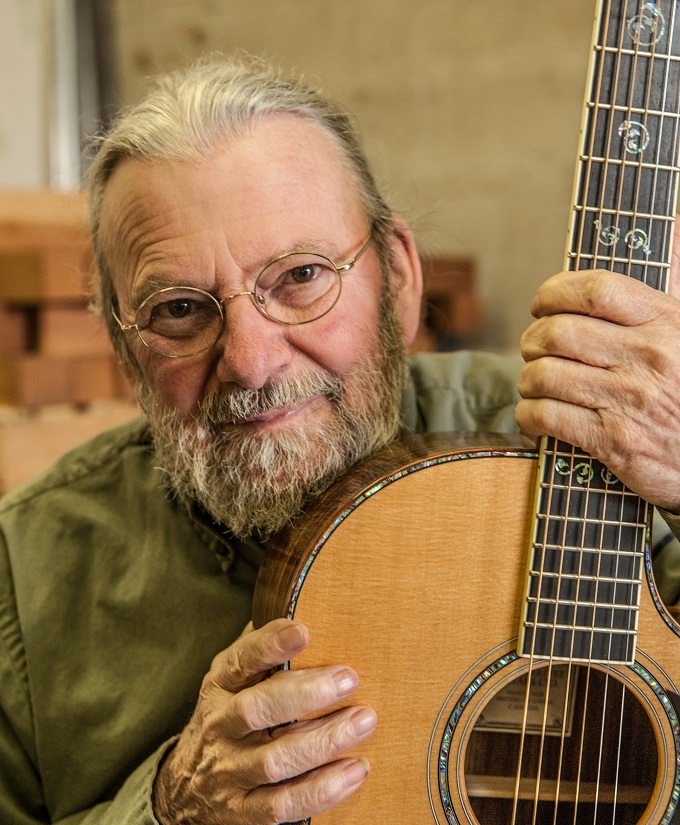 (Image: Jeff Topham)
TORONTO 1967-1977
Late 1960s. The hippie revolution is in full swing. The young Jean Larrivée, a mechanic by profession, is interested in the classical guitar and attends a concert by the experienced guitarist Edgar Mönch Junior. After the show, Jean meets the artist's father - the world-famous German guitar maker Edgar Mönch Senior. Mönch is impressed by Larrivée's interest in guitar making and hires him as an apprentice. In 1970 he moved into his own workplace on the second floor of the Tarragon Theater. In the midst of a thriving folk music scene, Jean begins making steel string guitars here.
During this time he developed his own X-Bracing system - the key to the characteristic Larrivée tone, which is characterized by crystal heights, soft mids and powerful basses. Over the next few years, Larrivée's company grew steadily and moved several times. Young, now well-known, talented guitar makers like William "Grit" Laskin, Linda Manzer, Sergei de Jong, David Wren and Tony Duggan-Smith learn and work in the workshop. Most notable is Wendy Jones, whose skill and craftsmanship ultimately leads to the spectacular and breathtaking inlays still seen on Larrivée guitars today. She soon became Wendy Larrivée, Jean's wife.
By 1977, Larrivée had gained worldwide respect from guitarists and luthiers. Bruce Cockburn and Peter Yarrow (Peter, Paul and Mary) are the first high-profile artists to be interested in Jeans guitars. Jean now produces up to thirty guitars a month, shipping them in Canada and exporting them to Europe. American artists will soon be heading north too, hoping to buy a Larrivée guitar.
VICTORIA 1977-1982
In search of a warmer climate and easier access to valuable Sitka spruce, Larrivée moves to the west coast of Vancouver Island and brings a handful of employees with her. There, Jean begins to incorporate new ideas into tools and production. Increased precision with special machines enables him to produce more guitars - but since there were no such machines at first, Jean creates his own. Soon he is building four guitars a day. He also establishes contacts with the wood industry in order to obtain the best possible Sitka spruce.
NORTH VANCOUVER 1983-1992
With direct access to spruce and a climate favorable for building, the company continues to grow. But since he is isolated on an island, a move to the mainland is necessary. During this time, Jean's eldest son, John Jr., began working in the workshop. It's the 80s, however, and the music market is leaning towards electronic keyboards and electric guitars. Acoustic guitars are out. However, Jean is always the pioneer and adapts quickly, using his in-depth guitar building knowledge to build high-end electric guitars not only for Larrivée but also for other companies such as Kramer, Schon and Signature.
During these years Larrivée developed more modern tools and acquired computer-controlled milling machines, which contributed to the rationalization of production. But for Jean, it's not just about building more guitars. He also wants to make them affordable. From 1991 the acoustic market flourished again thanks to the unplugged movement of MTV - as did acoustic production. Larrivée now produces eight guitars a day, including several new models with a new selection of woods. Larrivée now employs over twenty people, including the last apprentice Jean ever hired - David Iannone, who eventually began a successful career with Morgan Guitars.
VANCOUVER 1992 - 2013
The acoustic market is booming, and the 16 guitars per day are beyond capacity. Matthew, Jean's younger son, also joins the team. After a short five-year interlude in East Vancouver, Jean buys a large two-story building on Cordova St. in downtown Vancouver. There is a lot of space for the production of his guitars on approx. 3000 square meters. With more than 45 employees, the team now manages 32 guitars a day. In 1997, Jean produced the first high-end solid wood guitar from North America for under $ 800. Originally a limited edition, the D-03 will soon become a workhorse for the Larrivée company and many guitarists.
Now Jean is fulfilling his long-cherished dream of building guitars in the USA. In September 2001 he opened a Larrivée workshop in sunny Oxnard, California. While his father and brother Matthew move to California, John Jr. stays behind to run Canadian business. With the popular 03 line now generating most of its sales, it is time to split production. Satin finish guitars have been continuously made in Canada, while glossy guitars are now built in California. The move south enabled streamlining and efficiency in both production lines.
OXNARD, CALIFORNIA 2001-present
Sunshine and a warm sea breeze are in the air. After months of hard work, the new factory is ready for production. Soon even mandolins from the workshop will appear, as will high-end electric guitars. Unfortunately, the global recession of 2008 caught up with the luxury guitar market and ultimately made it uneconomical to produce guitars in multiple locations. In November 2013, Larrivée closes the doors of its Canadian store and merges the Vancouver store with the California location. There Jean continues to experiment with tools and production.
Still supported by his two sons, he can now spend more time abroad looking for increasingly hard-to-find tonewoods. From the jungles of India to southern Spain, Jean continues his search for the most beautiful woods in the world. Today Jean is in his 70s and showing no signs of slowing down. When you take a tour of the workshop, you can still find a humble man in the corner covered in dust, carving necks and still smiling.
(published in Guitar & Bass 12/2020)
You might be interested in that too