Why is France called France
Why is France actually called France?

A little history lesson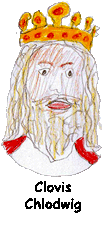 King Clovis I (born around 446 and died 511) was a great Franconian military leader. He succeeded in uniting a large part of the small Frankish kingdoms and thus creating a very large empire that stretched from northern Germany to southern Gaul (today's southern France).
Clovis is considered one of the most important figures in French history. He is the
first Christian king of the Franks, first king of the "united" Franconian empire.

The Frankish people were warriors. The Frankish king was elected by various warlords, so the warriors decide voluntarily to fight by his side. That is why the word "frank" also means "free".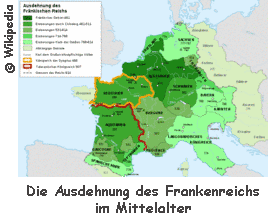 The name "France" comes from the original name Franconian Empire and means the land of the Franks, the land of free people.
Do you want to see the map big? Click here >>>
Do you want to find out more about the Franks? Click here >>>
Does the French language come from the Franks?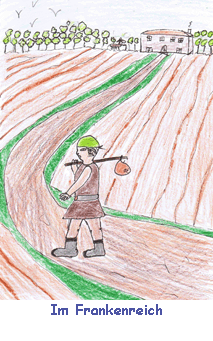 The Franks spoke Frankish, a Germanic language with many variants depending on the ethnic group.
Before the arrival of the Franks, Latin was spoken in much of Gaul. Not the Latin you learn in school today, but a simpler Latin called Vulgar Latin.
That did not change with the arrival of the Franks in Gaul. The Franks had only a minor influence on the local language, Vulgar Latin, which over time has developed into French.
| | |
| --- | --- |
| French | German |
| la was | the war |
| le guerrier | the warrior |
| frapper | beat |
| good | ambush |
| épier | peek |
| guider | to lead |
| gagner | win |
As a warrior people, the Franks have
however vocabulary from the war area
leave. On the left are
some examples.
Some French words that begin with H also come from Franconian, e.g.

| | |
| --- | --- |
| French | German |
| le haricot | the bean |
| le hangar | the warehouse |
| la hall | the hall |
The Franks in Germany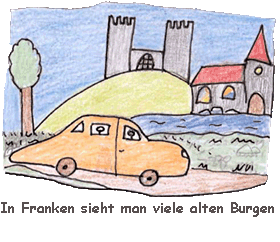 Even today there is a region in Northern Bavaria called Franconia. The hilly landscape with the numerous castles attracts many tourists.
The largest city in Franconia is Nuremberg. It is still surrounded by its medieval city wall and you can admire the old fortress - the Kaiserburg - and many old houses.
Nuremberg is famous for its gingerbread and Nuremberg sausages, among other things.

Text: The editorial team
Drawings: Alina and André
Text and drawings © Grand méchant loup | Bad Wolf
Map of Franconia © Wikipedia, Sémhur. License: Creative Commons by-sa 3.0