Without SCADA, automation is possible or not
The term SCADA stands for "Supervisory Control and Data Acquisition". These network control systems, which are more or less complex in their architecture, monitor, control and optimize industrial plants or supply facilities. For this purpose, SCADA systems continuously collect and analyze real-time data and provide relevant information for trouble-free, safe and optimized plant operation in every aspect.
SCADA systems - a combination of hardware and software
A SCADA system consists of various hardware and software components that are adapted to individual requirements. In principle, a SCADA system as an industrial control system provides several technologies. This results in a system that collects data, monitors and processes it and, if necessary, is able to deliver control orders to a wide variety of components. SCADA systems are highly flexible and adaptable and work under a wide variety of operating systems from Windows NT to UNIX or Linux.
As part of the automation pyramid, the standards IEC 62264 and DIN EN 62264 assign SCADA to the process control level Level 2. The task of level 2 automation is to optimize level 1 automation and to output manipulated variables and setpoints.
Industry 4.0 with SAP MES [presentation]
This presentation gives you an insight into the topic of Industry 4.0 and SAP MES.
Industry 4.0 with SAP MES [presentation]
SCADA as an indispensable element of Industry 4.0
Automation in the context of Industry 4.0 can no longer be stopped. It is all the more important to have appropriate control and control elements that are capable of optimally monitoring, analyzing, controlling and optimizing the increasingly complex processes. SCADA systems also perform these tasks when the operating or production facilities are not on site.
As important control, monitoring and control systems in automation, SCADA systems are able to control one or more of the following components at the same time or to communicate with them.
SCADA systems control and communicate with
networked machines and automation,
Process control systems,
Process control systems that use PLC and RTU,
ERP systems such as SAP PP or SAP PM as well as MES systems
Security systems and their processes.
As part of their tasks, SCADA systems ensure local machine safety as well as the safety of the process and control. This in turn has a positive effect on the system and the production quality.
SCADA systems
reduce costs with higher production quality,
increase system availability,
optimize system performance and
reduce maintenance costs by supporting total productive maintenance.
SCADA - Supervisory Control and Data Acquisition - is subject to continuous further development. This means that SCADA systems make processes more and more flexible and take on more and more routine tasks automatically. This not only relieves the user, but in addition to the positive effects increases the quality of industrial workplaces in all areas of application.
Communication of SCADA systems
SCADA systems communicate with the connected components on the client level as well as on the field level. To do this, they use either continuous or burst communication. At the field level, SCADA systems communicate with the field devices using process controllers via field buses. Communication between man and machine takes place on the client level, with man primarily intervening in a controlling manner.
Public and private data networks such as DSL, Ethernet, telephone or cellular networks connect the two levels. As a result, SCADA systems use serial connections as well as TCP communication in complex network constructions.
The highest demands are placed on SCADA systems with regard to communication. In order to meet these requirements, SCADA systems master much more than the common standards such as OPC UA, various IEC protocols or Modbus and are able to communicate with proprietary systems and various hardware without any problems.
Industry 4.0 and SAP: challenges and possible solutions
In this whitepaper we show you the greatest challenges in connection with Industry 4.0 and which solutions SAP offers for this.
Industry 4.0 and SAP: challenges and possible solutions
Architecture on two levels
Regardless of the complexity of the architecture, a SCADA system distinguishes between two levels. The client level is used for the interaction between humans and machines. At the field level, also referred to as the data server level, the data servers communicate with the field devices via process controllers. Field buses serve as intermediaries between field devices and process controllers. The data servers not only establish the connection to the field devices, but also serve as a link between the two levels.
The complexity of the architecture of a SCADA system depends on the task at hand of the system. It can be very simple, but it can also have an extremely complex structure. For example, if a system only monitors certain environmental conditions in a production hall, it may only have a few thousand I / O channels and present itself with a simple architecture. The SCADA system of a nuclear power plant is different. A much more complex architecture with several hundred thousand I / O channels is required here.
Areas of application of SCADA
As part of automation solutions, modern SCADA systems not only collect and monitor data produced on site, but also data from geographically distant production and operating sites or measuring points. The automated control of various components is also possible over long distances.
This property predestines SCADA systems for use in a wide variety of application areas. In addition to industrial production, complex distribution networks such as those of energy-generating companies benefit from the advantages of SCADA systems. This applies above all to energy suppliers, water treatment companies and telecommunication facilities, with the SCADA systems in the distribution area mainly taking on a monitoring function. In this way, you can provide information about line pressures in pipe distribution systems or, as part of a smart grid, special measured values ​​in order to optimally adapt the supply of electrical energy to the behavior of the consumer.
Security risks of SCADA systems
SCADA systems prove their great strength especially in critical infrastructures and are therefore used in production plants as well as in distribution systems such as those operated by energy suppliers. As a result, SCADA systems are particularly attractive for threat actors.
The human machine interfaces (HMI) of a SCADA system, which are popular gateways for malware, are particularly risky. Since the goal of threat actors is usually the greatest possible and lasting damage, large logistics systems and production sites as well as energy suppliers are subject to a particularly high risk of falling victim to a successful attack. As a result, SCADA systems pose a particular challenge for a company's IT.
If a company observes the following points, the risk is significantly reduced.
SCADA software must never run on unpatched, outdated and therefore vulnerable systems.
It is essential to implement guidelines for security governance, risk assessment and risk minimization as well as the necessary monitoring.
Implement standards defined in IEC 62443 and ISO / IEC 27001.
Segment the SCADA network using a SCADA security zone with a firewall and isolate it from the network.
Access to the SCADA zone is only possible via user authentication and not via IP address.
Monitoring of all SCADA protocols instead of the ports.
Targeted checking of all traffic within the SCADA zone for threats such as exploits, botnets or malware.
Close collaboration between IT, security and SCADA teams, as any change in the corporate structure can affect SCADA security.
As an element of the critical infrastructure, prevention is the top priority for SCADA networks. This applies above all to the protection against zero-day malware such as Energetic Bear or Stuxnet.
Continuous further training of the SCADA specialists imparts important knowledge about the protection of the SCADA network.
Conclusion
SCADA - Supervisory Control and Data Acquisition - stands for visualization, control and operational data collection. With the advancing automation in the context of Industry 4.0, SCADA systems are becoming more and more indispensable. The collection of data, its analysis and processing, including the resulting actions, require an ever higher degree of automation. This is the only way to operate systems efficiently or to individually adapt the performance of distribution systems in order to achieve maximum efficiency.
Tim Lutz
My name is Tim Lutz and I am the head of the Mind Logistics department. I have been dealing with logistics solutions in the SAP environment for many years.
Do you like this article? Subscribe to our news and blog posts!
Enter your e-mail and you will regularly receive a compilation of our current blog posts.
---
You might also be interested in:
---
You might also be interested in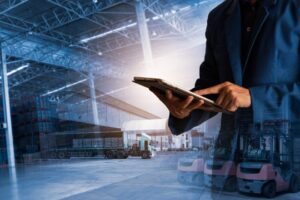 Depending on the size and type of the manufactured products, the production of a company can be very complex. Anyone who is thinking about the introduction of a Manufacturing Execution System (MES) must also consider when such an investment will pay off. This blog post initially describes 4 different areas in [...]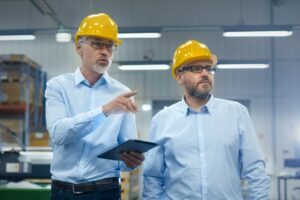 With increasing competition and manufacturing costs, so does the need to optimize production. The aim is to keep production costs as low as possible while maintaining the same quality and to make processes more and more efficient. One possibility that [...]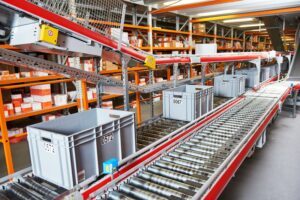 There are many factors to consider when planning your production. On the one hand, of course, you have to produce enough items to meet your customers' needs. On the other hand, you can usually not exactly predict this demand. [...]
---
---