How do I repaint my front door
Painting wooden front door - step by step instructions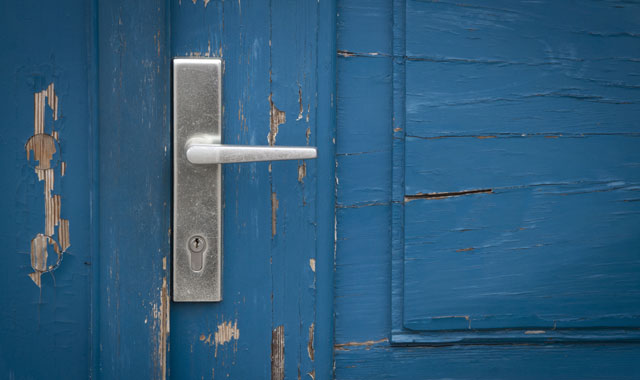 Wooden doors are exposed to various types of weather. No wonder you need to be painted on a regular basis. Our guide will show how to do it.
They are exposed to the sun, have to endure rain and are also not protected from frost. Yes, front doors have to endure a lot. Of course, this damages the appearance a lot. And that is really very ugly, after all, the front door is the calling card of a house. Chipped paint and notches in the wooden front door really look anything but inviting, don't they? A front door can be a successful welcome or it can also act as a deterrent.
Wooden doors in particular suffer greatly from the effects of sun, rain, frost and snow. If your front door no longer looks as beautiful as it did on the first day, you don't have to call a specialist right away and have the door renovated. You can also repaint your wooden front door yourself. Here is a guide to do this.
What you need:
➥ Grinder
➥ Sanding discs / paper with 40, 80 and 100 grit
➥ Wooden filler
➥ spatula
➥ primer
➥ Top coat
➥ paint tray
➥ paint roller
➥ brush
Instructions for painting a wooden front door
➤ Step 1:
Before you can start the actual work, you must first unscrew the door handles and shields or the rose set.
➤ Step 2:
Then you have to sand the surface of your wooden entrance door and possibly also the frame with 100 grit sandpaper. You can either do this by hand or you can use a grinder (reading tip: which grinder is suitable for which application?). This is much easier and particularly spacious entrance doors can be sanded down much faster.
Once you have completely sanded the door, use sandpaper with an 80 grit in the second sanding process and a 40 grit in the third sanding process.
➤ Step 3:
If your door has deep grooves, scratches or even holes, you have to fill them with wooden filler in the next step. To get a smooth surface, it is best to work with a spatula. Then let the mass dry well and sand the surface of the repaired areas smooth with fine sandpaper.
➤ Step 4:
Now you can swing the brush, because now it's time to paint. The first thing you need to do is coat the entire wooden door with a primer. Paint the corners and edges with a brush and the rest of the large area with a paint roller. Then let the primer dry well.
➤ Step 5:
After the primer is completely dry, you should completely sand the door again with fine sandpaper. Then dust the door well.
➤ Step 6:
Now you have to apply the primer a second time, let it dry well and then sand the door again with fine sandpaper.
➤ Step 7:
Now you can apply the top coat in the color of your choice. A single coat is usually sufficient. Then let the door dry well and reassemble.