What is a guest blogger post
The truth about guest blogging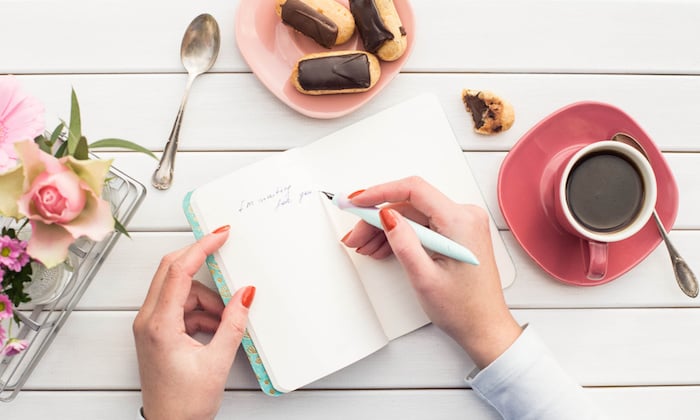 There are tons of articles out there that teach you how to guest author content on other blogs, why it makes sense, and what benefits you can hope for.
You probably also know these articles:
Become an online authority!
Increase your brand visibility!
Contribute to the community!
Provide better added value!
That's all well and good, but all of these "perks" aren't why guest blogging should be done.
You can still enjoy these benefits, but they are not the main reason for posting articles on other blogs.
It's a constant give and take. Both sides benefit from it.
The blog
And the guest blogger (you)
As a guest blogger, you are primarily interested in a link to your own website.
You want to direct visitors to your site.
You want to generate more organic traffic and build a natural link profile.
This is why many marketers resort to guest blogging.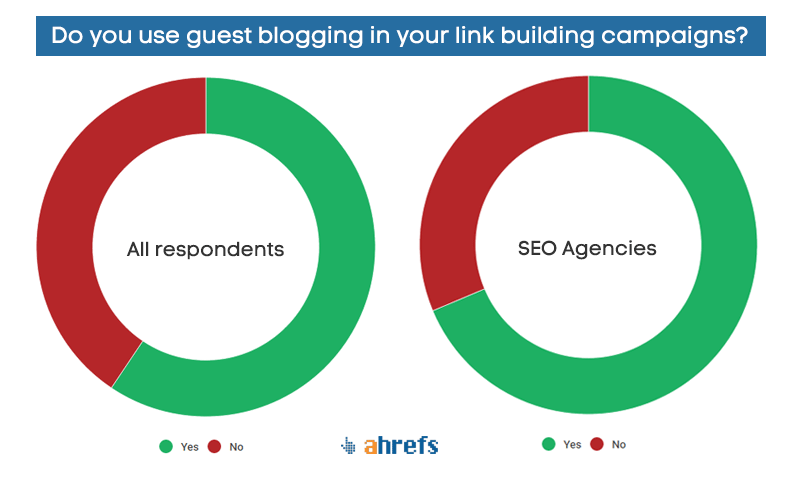 Here's an interesting and honest take on guest blogging:
"If there was an international law that forbade guest authors from referring to their own projects, there would almost certainly be 90% fewer guest posts worldwide," says Karol K in a guest post by Jeff Bullas. "I'm not saying that this is a good or a bad thing, but that is exactly what would most likely happen."
Even if you gain more links and visibility by posting your content on other blogs for free, that doesn't mean you can take a shortcut or follow the process.
If you want real benefits with guest blogging, you have to work hard.
Goal setting and strategy
Every task, no matter how small, can be planned and every resulting result measured.
It should be that way.
That is the only way to be successful.
Problogger provides a template with which you can put your guest blogging strategy in writing.
Still, there are marketers who guest posts just for fun.
These guest authors have no strategy.
Do you have a good reason to guest post?
Or do you create content because everyone does it and you want to take your share of the traffic?
According to the Content Marketing Institute, only 46 percent of marketers have a documented content strategy. 44 percent have no strategy at all.
And 10 percent weren't sure.
Over half of all marketers create content without a plan and hope that something will work out for them.
These marketers fully understand that content is useful, and they even know the importance of posting content on a regular basis. (60% of these marketers produce at least one piece of content a day.)
Still, only 32% of marketers believe their content marketing strategy is effective.
Oh dear
Without a clear strategy, you are in the dark.
These bloggers then measure the success of a guest post based on social shares, comments and traffic.
Not correct.
Your strategy should be aimed at growing your own business, not another blog.
The only goal you should aim for with guest posting
The extra traffic and visibility are great but pointless if you can't use this traffic.
If you publish posts to get backlinks, you always have to fight against the organic search results and the constant algorithm updates.
You could wake up one morning after another Google update and find that your links are useless.
There's only one good reason to guest blog:
Subscriber acquisition.
You have to turn your visitors into subscribers.
Referral traffic that bounces off instantly is useless, but with a smart blogging strategy, you can turn those visitors into subscribers.
Then you can develop a real relationship with your readers.
And send them messages regularly.
And if you want to launch a new product, make an important announcement, make a great offer, or share other important information, you can easily send them an email.
You need to convince them to check your content regularly.
Your strategy is about more than guest posting.
You have to plan the entire process from finding the right blogs to creating mind-blowing content to creating a funnel to get the right subscribers.
A good pitch alone is not enough
A well-written contribution full of added value and the perfect pitch can still fall on deaf ears.
It can really happen.
Great contributions end up in the trash.
It takes a lot more to get the attention of a respected blogger or influencer than a great pitch.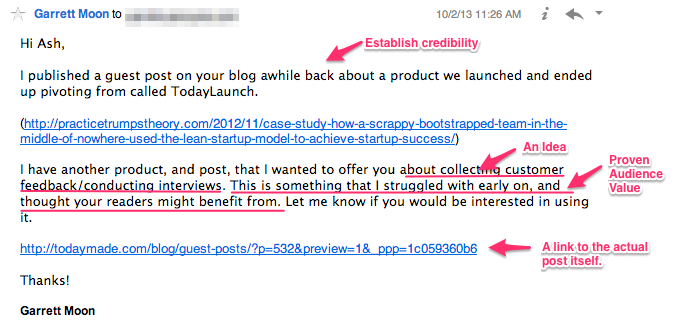 Even a well-worded email, like Garrett Moon's, can land in the trash.
You can also get lucky and land a hit.
However, influencers get so many guest posts that it is impossible for them to read every one of them.
So first you have to build a relationship and interact with the person in question.
This approach opens doors and is very easy to implement.
Share and tag the blogger's content.
Leave comments on his blog and articles.
Participate in group discussions and social media conversations.
Quote the blogger and incorporate his ideas into your own posts.
Find the right blogger and make yourself noticeable. The whole thing doesn't take long.
If you build a strong relationship with the blogger right from the start, your pitch will be 10 times more convincing.

It is also much easier for you to write a personalized email, like the one from Glen Allsopp, because you know the blogger.
While you maintain the relationship with the blogger, you can take care of the rest of the process.
Find blogs with engaged audiences
Not so fast.
Even if you've found a respected influencer, that doesn't mean they're the right person for the job.
A large, limited fan base is useless.
You shouldn't be satisfied with just any blog to collect comments and social shares.
You can get more traffic this way, but that's far from enough.
You need to find websites, bloggers, and influencers that have a good engagement rate and lots of social shares.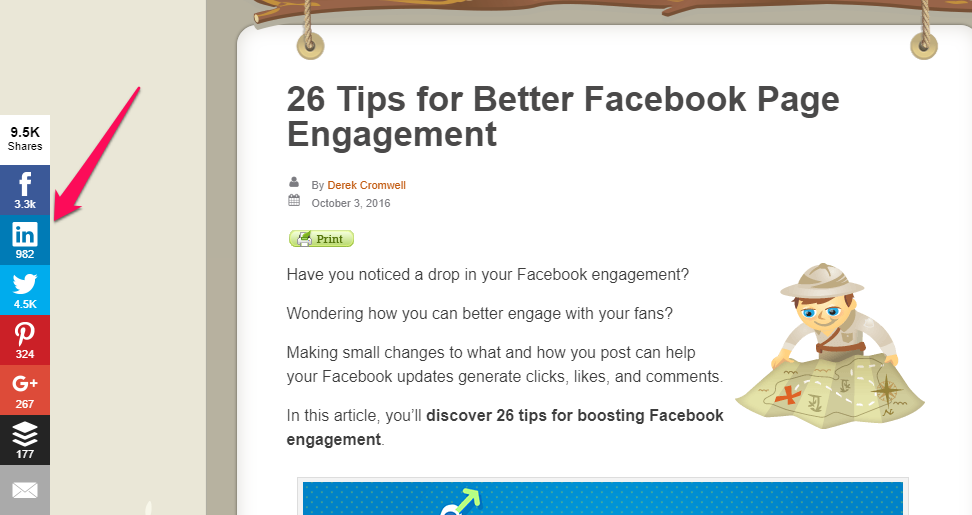 You can award bonus points if the blogger has many subscribers and sends regular email updates.
Find out more about the target audience
So you've found a blog with a great engagement rate, lots of traffic, and a respected influencer.
Does this blog have the right audience?
Perhaps you automatically assume that a blog from the same industry has the same audience.
You shouldn't make such assumptions when it comes to the target audience.
You have to ask yourself the following question: "Are the readers of this blog interested in my content?"
If the answer is "no" or if you are not sure, this blog should not be considered.
You could get a link, but you won't get subscribers if the blog doesn't target the right audience.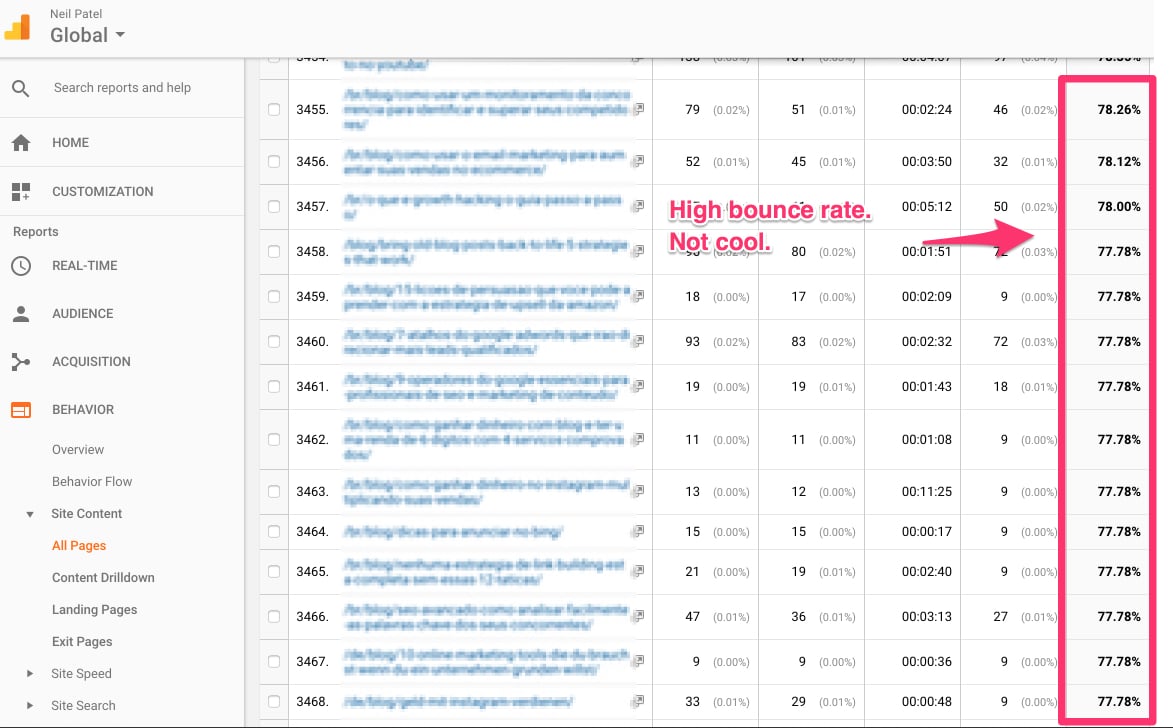 You have to pay attention to the following things:
Is it a B2C or a B2B audience?
Are the readers novice, intermediate, or expert?
Is it primarily a DIY audience?
Is the content of the blog intended for a different niche in your industry?
Is the content so general that your content would only appeal to a fraction of the total audience?
Examine the content of the blog
You are sure to take a look at the content of the blog if you want to find out more about the target audience. Examine the articles.
You have to read the posts.
Take a look at the most popular posts, take notes, check which topics have already been covered, and get an overview of the writing style of the respective blog.
This way you can avoid mistakes in the formulation of your articles and do not suggest topics that have already been sufficiently covered. In addition, you can personalize your pitch and suggest interesting new perspectives to get the blogger's attention.
Bloggers get pitches every day.
They quickly notice whether you have prepared yourself well or not.
It is only to your advantage if you can say, "I thought Articles A and B were really great because [Reason XYZ]. The post gave me a great idea on the subject of XY. "
If you don't do your homework, you are putting obstacles in your own way.
You may need to adjust your style
Every blogger and marketer has their own writing style.
Everyone has their own unique tone of voice.
Your writing style should be consistent across all of your own channels, but you may have to adjust it if you want to publish guest posts.
Buffer shares a great example that shows how different formatting can improve our content.
If the blog has its own design guidelines, you have to adhere to the guidelines.
If you find out during your research that certain elements keep popping up, you should incorporate these elements into your guest post.
If the content contains a lot of videos, you should also include videos in your post.
Are the articles written loose and with humor?
Or are they more formal?
You don't have to copy the writing style perfectly, but you should make certain changes so that your guest post is well received by the target audience of the blog.
Readers are more open to you if your style sounds familiar to them.
Deal with a specific topic (and master it)
There is an infinite amount of content.
A lot of this content is bad and doesn't add any value.
Your guest post has to be exceptionally good if you want to differentiate yourself from the other marketers
You should choose a very specific topic and deal with that topic in great detail.
It takes longer to write a well-researched and in-depth article - maybe even days - but it's worth it.
An exceptionally good post full of added value is sure to stand out from the average posts bloggers get sent each month.
This is how Peep Laja built its brand with ConversionXL.
Peep writes in-depth articles on a specific topic. His articles are on average 2,000 to 4,000 words long (or longer).
Thanks to his approach and extensive content, he has gained over 100,000 monthly readers in just one year.
Unless the blog has a character limit, your articles should be long and detailed.
But don't get around the bush and write an interesting post with an interesting perspective on the respective topic.
The right reason for guest blogging
We all know guest blogging makes sense.
You need traffic, you want more links and you want to conquer a new target group.
The blogger is interested in great content to make his readers happy.
Everyone benefits from it. Even so, you must have a good reason to guest blog.
If you want to introduce a new product or have more visibility, try to publish as much content as possible on other websites.
This approach quickly leads to mediocre, poorly thought out posts because you are only interested in satisfying your own needs.
Do you want to post your guest posts on highly regarded websites?
In this case, you should reconsider your priorities. You must:
Offer added value to the guest blog. You have to clearly emphasize this added value in the pitch.
Offer the reader added value. You need to dig deep into the topic and write in-depth articles.
Take care of your own needs.
Your own needs always come last.
Both the readers and the blogger will notice it immediately if you are only concerned with your own benefit.
You need to direct your traffic to a good landing page
You will only get mediocre results if you redirect your guest post traffic to a poor landing page.
Or an irrelevant blog post.
Or on your homepage ...
You put so much work and time into researching, building a relationship, writing your article and pitching it. It would be a waste if the visitors jumped off immediately.
And if they jump off, they will never be seen again.
You can't fan every visitor, but you can get almost half of your readers subscribers if you come up with a good plan.
How do you get as many subscribers as possible?
With a relevant landing page. You have to surprise your traffic with a personalized page.
When you publish guest posts on HubSpot, you can greet visitors with a "Hello HubSpot reader".
You also have to offer the right gift and recommend other items that fit the topic of the guest post.
You should create a personalized landing page for every blog you post on to get as many subscribers as possible.
Offer great gifts
The relationship with your readers is based on constant give and take.
I would like to emphasize again: "Giving".
You can't get new subscribers (at least not enough new subscribers) if you only give mediocre gifts.
Your readers want something meaningful and useful.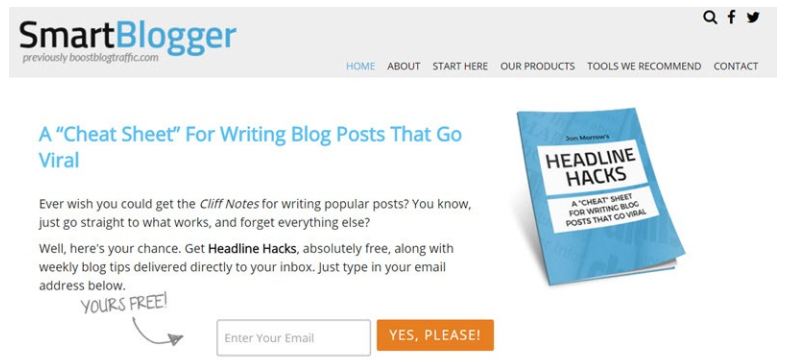 It has to be even better than the content that brought them to your landing page.
With a great gift, you can convince the reader to act immediately and leave their email address. If your offer isn't convincing, the readers won't act ... especially not if you don't have an offer at all.
You could still face a dilemma. Even if your gift is great, it may not go down well.
Why?
Because your visitors come from different guest posts and different blogs. They are not necessarily the same target group.
The gift must be perfectly tailored to the respective target group.
That's why different landing pages and different gifts make sense.
Your offer does not necessarily have to match the topic of the guest post. It just has to fit perfectly with the respective target group.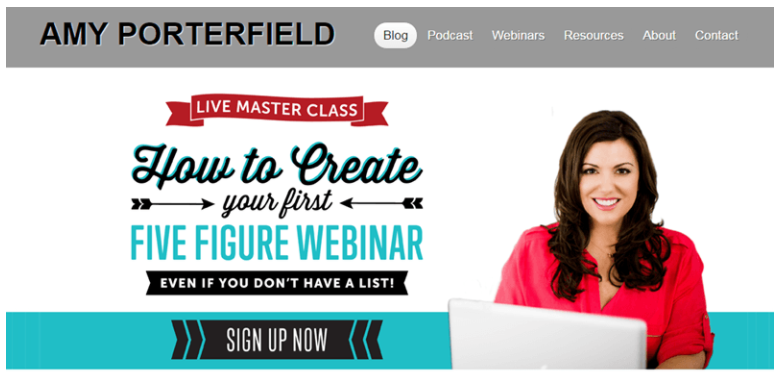 You have to come up with an irresistible offer that readers of your guest post simply can't refuse. Signing up should be the next natural step.
You need to finish your post in style
If guest posting is an integral part of your inbound marketing strategy, there is nothing worse than poorly completed posts. You gave everything to write a great article and delight your readers and still lose them towards the end of the article!
This can happen when readers are so preoccupied with their problem and your tips that they totally forget who wrote the article.
Gregory Ciotti calls this phenomenon "byline blindness".
"Readers of websites who regularly post guest posts often sufferByline blindness. Readers miss the line with the author's name. "
He shares his own experience with guest blogging in an article on his website.
"I've published guest posts a number of times and the readers then thanked the site owner in a comment for the great article (not me)."
The only way to avoid this problem is to close your post with a bang. You need to write a compelling call to action that readers just can't resist.
But that's not enough.
You literally have to take the reader by the hand.
You need to complete your guest posts with a well-considered strategy.
Write a clear summary of the lessons learned.
Then you have to capture the readers. You could e.g. B. ask a question. Make her ponder.
Include a specific call to action.
Essential elements for your guest post to be accepted
Even if you follow all of my instructions and prepare for all eventualities, your pitch could still end up in the trash. There can be different reasons for this.
Most of the time you just don't get an answer.
You can minimize this risk by adding a few key elements to your pitch.
1. Don't talk around the bush.
Get to the point quickly; boring and rambling emails are bad for business.
If you can't find an email address and the blog doesn't provide a form, you can contact them via social media.
You should get to the point there as quickly as possible.
2. Your email needs to stand out from the crowd.
Write a compelling subject line that is professional, easy to understand, and honest.
You don't have time to arouse the recipient's curiosity. I can only advise against clickbait.
Such e-mails immediately end up in the trash.
3. You have to know the recipient.
Personalize your pitch and name the recipient. A simple "Hi Neil" is enough.
Do not open your emails with "Dear blog manager" or "Dear editor".
And under no circumstances should you use formal, impersonal greetings, e.g. B. "Dear Sir or Madam".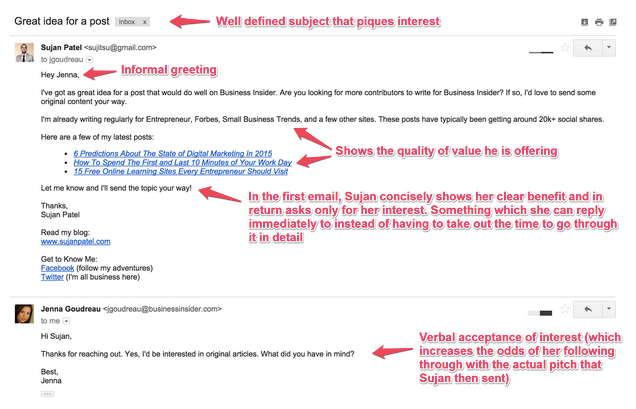 Sujan Patel uses a personal, informal address, skillfully emphasizes the added value of his article and shows that he knows his craft.
4. Introduce yourself.
State your name, especially if the recipient doesn't know you yet.
You should plan a maximum of two lines for this.
5. Point out deserved successes.
Shows the recipient why you are important and why they should give you their attention. This is the most important part of your email.
You have to point out successes that have already been achieved.
You could name other websites that you've guest posts on.
Or you could point out industry successes.
6. Why are you important?
You want to access the blog's audience. To gain this privilege, you must prove your rightful place in the industry.
You can summarize in one or two lines why and how you participate in the active exchange of your respective industry or niche.
7. You don't have to compliment the recipient.
Flattery is not necessary. It is useless.
Site owners and bloggers are constantly being sent pitches telling them how great and helpful their content is.
Everyone is an "avid reader" and "loves their articles".
You have to focus on your pitch and your added value. Not on the recipient's ego.
8. Check your email for errors. Over and over again.
If you make a mistake while writing, you can correct it immediately. When the email is ready, you need to proofread it.
And then you have to check it a second time for spelling and grammatical errors.
And a third time to be on the safe side.
You can use the Hemingway Editor to compose a flawless email.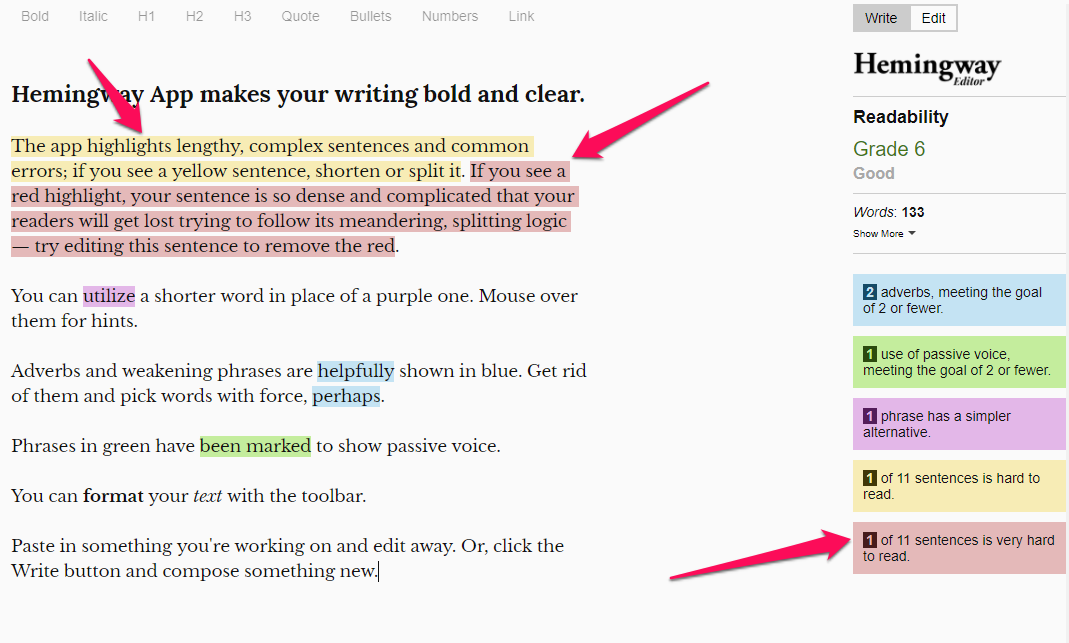 If the recipient stumbles across a spelling mistake, you're sure to get negative feedback. "He can't even write an error-free email."
Conclusion
Guest blogging is well worth it if you do it right and for the right reasons in consideration.
You have to set clear goals for yourself and accept that reaching those goals will take time because you have to first develop a relationship with the blogger and create impeccable content for the perfect audience.
And even then you can get a rejection. It happens.
Don't worry, think about what you could do better next time and get back to work. This is the only way you can post guest posts on relevant blogs and build a great email list.
Have you already had your own experience with guest blogging? Is it an integral part of your content marketing strategy?