(May 12, 2014) Vermont was the first US state to introduce mandatory labeling for foods made from genetically modified organisms. The Democratic Governor Peter Shumlin signed a law to this effect last week. But whether the rules will actually take effect seems questionable.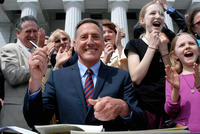 Peter Shumlin, governor of the U.S. state of Vermont, signs the law on labeling genetically modified foods. "In Vermont, we take our food and the way it is made very seriously. We have a right to know what's in the products we buy, "he said when signing the agreement.
Photo: John Herrick / VTDigger
Vermont: GMO labeling with many exceptions
This food labeling is mandatory in Vermont from July 1, 2016:
Unprocessed agricultural products: "made with genetic engineering" (produced with genetic engineering);
Processed foods: "partially produced with genetic engineering" or "could be produced with genetic engineering".
Exceptions (examples):
Food from animals if it has contained genetically modified feed;
Agricultural products if genetically modified seeds were used unintentionally or unknowingly;
Foods with genetically engineered additives or enzymes;
Food in which the genetically engineered ingredients make up less than 0.9 percent by weight of the product;
Drinks and food in restaurants and canteens.
By July 1, 2016 at the latest, agricultural products and foodstuffs that are marketed in the northeastern US state of Vermont must be classified as "made with genetic engineering"produced with genetic engineering) are declared if they are a "genetically modified organism" or were made from it. Similar to European regulations, Vermont law contains numerous exceptions (see box). Unlike in the other US states, foods that are subject to labeling may not be advertised as "natural" in the future.
The sparsely populated, rural state is the first to introduce mandatory labeling for genetically engineered foods. Connecticut and Maine have passed laws similar to Vermont. But there they will only come into force when four other states with a total population of more than 20 million have also introduced mandatory labeling.
In California (2012) and Washington (2013) referendums narrowly failed, but the Right to knowMovement is still active and is putting pressure on politics According to the Center for Food Safety In 2014 alone, legislative initiatives per labeling were introduced in 32 states.
But whether the law in Vermont will take effect on July 1, 2016 as planned, appears to be questionable. Food industry spokesmen have already announced lawsuits. "It is costly and misleading if there are different regulations on genetic engineering labeling in the 50 US states, especially since the consumer does not benefit from it," said a spokesman for Grocery Manufacturers Association. Other observers expect that the large manufacturers will no longer supply the Vermont trade if the new labeling regulations apply there. With its 625,000 inhabitants, the market there is simply too small.
But above all: At the beginning of April Mike Pompeo, Republican from Kansas and member of the House of Representatives, introduced a bill to the US Congress in Washington. According to this, the labeling of food is to be regulated throughout the US. In the case of genetic engineering, as before, there should be no mandatory, but rather voluntary labeling. Laws of individual states like Vermont would be repealed.
At the same time, uniform standards for "GMO-free" labeling are planned, which should also apply throughout the US.
So far, the deliberations on this law have only just begun and it is to be expected that the proposed draft will be weakened in individual points. But if it were to be adopted in a similar form, the special ways of individual US states for genetic engineering labeling would be over.