How do I maintain a public garden
Interesting specialist articles on
Plant use in public and private gardens



For partially shaded and shady locations
Veitshoechheimer perennial mixes made easy - quantity calculation in the twinkling of an eye!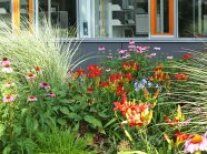 The ratio of the perennials in the Veitshöchheim mixes for partially shaded and shady locations can easily be extrapolated automatically. You simply enter the square meters of your area to be planted in a PDF file. The formula stored there then quickly calculates the number of perennials you need for your area. More
Technical article
Substrates for perennial plantings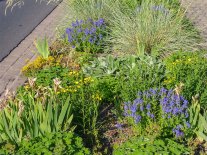 Mixed perennial plantings offer attractive flowering aspects over a long period of the year and have proven themselves in public green spaces as well as in private gardens. On the other hand, the question of the "right" soil or substrate still causes uncertainty, because the best herbaceous mixture cannot work if it is planted on weed-contaminated soil. More
Bees pasture plants for the home garden
"Bee-friendly" - lists of attractive plants for bees & Co.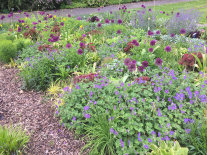 More biodiversity in the home garden - a list of bee pasture plants for the home garden (in an Excel file for download) can be helpful when planning and designing gardens and green spaces. Trees, shrubs, climbing plants, perennials (including annual and biennial) and bulbous plants with information on nectar and pollen consumption, species and varieties as well as distinctive plant features are listed. More
Technical article
Elegance and Versatility - Ferns and Their Uses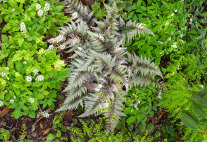 Ferns often lead a "shadowy existence" in the use of plants. But they are considerably more versatile than you might initially expect. Ferns can be found in nature not only in the forest or in the cool shade of the wall, but also in dry, sunny locations and even on and in the water. The trade has a wide range of species that must be used for an attractive design of plantings. More
Technical article
Color for town and country - seeds for public and private green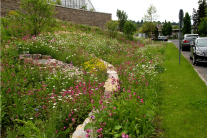 In the case of greening measures in residential areas, the focus is primarily on design requirements. Where alternating florets or perennial plantings are too expensive and time-consuming, seeding mixtures, whether annual or perennial, can offer an inexpensive way of establishing species-rich and low-maintenance plant populations. For this purpose, the Land Care Department of the Bavarian State Institute for Viticulture and Horticulture in Veitshöchheim has developed annual and combined perennial mixtures of annual, biennial and perennial cultivated and wild species and made them available for practical use. More
Technical article
Plants for gravel and gravel - robust, close to nature and diverse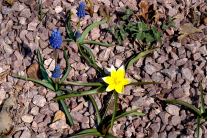 Gravel and gravel gardens are "in" and have been sprouting up like mushrooms lately. In private gardens in particular, instead of flowering plant beds, more and more monotonous stone surfaces are created, peppered with individual plants. It is hoped that such designed areas will require little maintenance, as is currently practiced successfully in numerous plantings in public green spaces. However, this is not infrequently a fallacy, because stone alone does not make a garden that is easy to maintain. More
Technical article
Highlights in the perennial bed - grasses for open space planting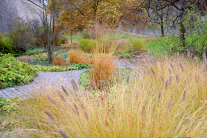 The use of grasses in gardens has seen a significant increase in recent years. However, the potential of the grass types available in the range is still not fully exploited. If the site requirements are observed, spectacular effects can be achieved through the targeted use of large solitary perennials or with extensive use of intensely colored species. More
Technical article
Highlights in the perennial bed - grasses for shady spots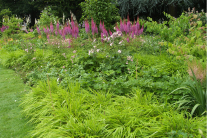 Whether evergreen ground cover or shape-forming ornamental grass, a plantation can be enriched with grasses at any location. In nature they are natural components of the vegetation and in the use of plants they are irreplaceable as design elements due to their diverse shapes and possible uses. High species provide structuring, low representatives can also be used as ground cover, for example, to bring calm to the plantation. More
Technical article
Conifers in focus - unloved and yet indispensable?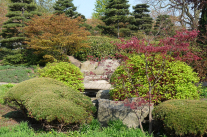 Coniferous trees offer a variety of shapes and colors, depending on their location. In addition, they are usually easy to care for. The garden designer can set attractive accents together with deciduous trees, shrubs and grasses. More
Technical article
Green jewelry in the street space - proven plants for noise protection systems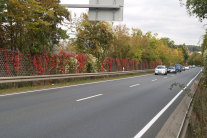 In order to obtain long-term test results also with regard to the diversity of the systems, an extensive series of tests began in 1993 at the LWG Veitshöchheim on the planting of noise protection systems. In 2011 the current plant population was recorded again. Based on these long-term observations, a large number of reliable plant species can be recommended for different systems. More
Technical article
Mixed plantings for the areas of wood and wood border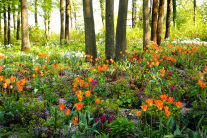 Mixed perennial plantings are now a common planting concept in cities and municipalities. They require comparatively little maintenance and yet create aesthetically pleasing colored surfaces in public spaces. In Veitshöchheim, further mixtures were designed for partially shaded to shady areas, which were further developed after a four-year test phase. The new mixes are as maintenance-intensive as the mixes that have been tried and tested over many years for open spaces. They are suitable for semi-shaded to light-shaded, also shady, freshly ground locations with little or no root pressure. Individual mixtures can also be used in more rooted and drier areas. More
Technical article
With rope and hook on the wall - recommended climbing plants for professionals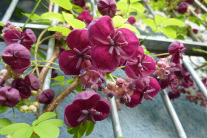 The use of climbing plants is an ongoing issue at all times. With regard to the absorption of fine dust, they take on a new role in addition to their aesthetics and their positive air-conditioning effect. As alternatives, the article presents, on the one hand, unproblematic, vigorous species that have proven themselves in long-term trials in road space due to their robustness. On the other hand, plants are selected that are rather unknown, but should be used more often due to their garden value. More
Technical article
Edible plants - what you never dared try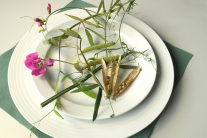 Many perennials and woody plants not only delight with their appearance, but also offer unexpected culinary highlights. Flowers of tulips, daylilies or marigolds as edible decorations, e.g. B. on the lettuce, young sprouts from bluebells to asparagus vegetables and the roots in winter as cooking vegetables, bring completely new taste nuances into the kitchen.
More
Technical article
Desolate or attractive? Color and structure with plants in winter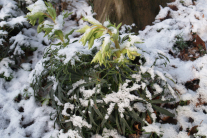 The skilful planner has a suitable range of species with special flowers, fruits, bark structures or special habitus in their repertoire. Plants with a year-round effect are ideal. In the article - without claiming to be exhaustive - a selection of plant species is presented, which are characterized by special effects in winter.
More
Technical article
Boxwood - the ideal wood for all occasions?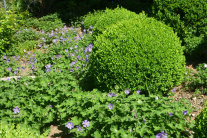 The boxwood (Buxus sempervirens) with its various varieties is currently in vogue. It is requested in large numbers, produced accordingly and offered literally on every street corner - not only in tree nurseries, but also at the discounter around the corner. More
Technical article
Cross-border commuters in the combat zone - dry stone walls, steps, paving joints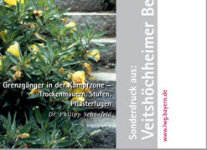 Dry stone walls, steps and pavement joints are extreme locations for plants and therefore difficult to green. But also for such locations there are plant species that defy the adverse conditions and loads and develop well in this ecological niche. The natural plant communities are a good starting point for finding suitable species. Since many species grow slowly, careful execution and a little patience are required. The article contains a selection of suitable trees, shrubs and grasses.
More