What are the invisible photos of cashmere
Kashmir: invisible threat from explosive remnants of war
In the Indian state of Jammu and Kashmir, especially in the border area with Pakistan, there are large mine-contaminated zones. Often these are cordoned off with barbed wire and signs warn of the deadly danger. But not everyone can read these signs. The villagers speak and read Urdu, but the notices are written in Hindi and are addressed to the soldiers. 50% of the victims are local employees of the military, they carry loads or pass on their local knowledge. This is precisely what makes their work so dangerous, because they supposedly know the area - but they are not aware of where the mines are or that they are anywhere at all.
The population is often unaware of the danger posed by the explosive remains of the war. When children see pictures of mines, they often think they are toys. Younger people are generally less well informed than the older generation. The conflict has been smoldering for 60 years - and so many submit to their presumptive fate and accept the dangerous presence of the silent killers in the ground.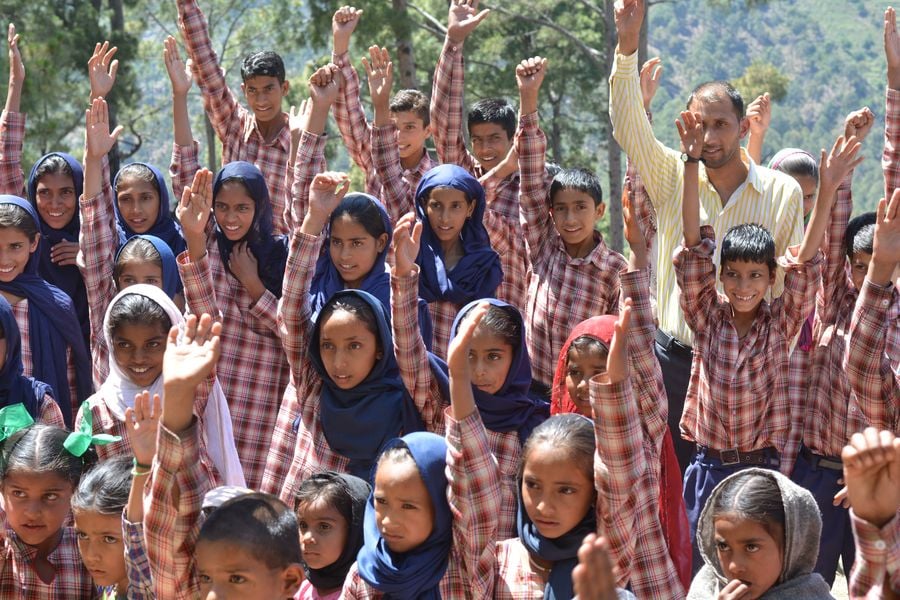 These young people are eager to expand their knowledge, which can make the difference between life and death © Hanan Zahoor / Handicap International
Kashmir is a mountainous region. Floods and landslides occur regularly there. In Sariya, a district of Rajouri, three local farmers were killed in a mine and one was seriously wounded. They fell victim to a widespread problem: bad weather transported the mine away from its place of origin. Since the mine was light and contained little metal, it slipped down a slope in heavy rain and landed in a farmer's field. When the men tried to remove the mine, it exploded.
Such accidents can be avoided if people know how to behave when they find an explosive remnant of war - and where the likelihood of it is highest (former combat areas, checkpoints at border crossings and in the vicinity of strategic facilities such as bridges, etc.).
Handicap International informs the population with a large-scale campaign
Handicap International has started a large-scale awareness-raising campaign together with a local non-governmental organization (NGO). 30,000 brochures and posters were distributed and training sessions were held for 500 people in the four districts on the border with Pakistan (Baramulla, Rajouri, Kupwara and Poonch). One hundred volunteers and government health workers were also trained. The goal: to reduce incidents caused by explosive remnants of war. Handicap International will do everything to ensure that the people of Kashmir live more securely in the future because they know the dangers lurking in the ground.