How much steel is needed for 1000sqf
Cocos liveaboard - the ship
Detailed ship information
The ship is a diving ship specially built for liveaboards. The 35m long ship was originally a commercial dive support ship for the oil industry in the Gulf of Mexico. Because of this, it is exceptionally stable and robust and has ship stabilizers so that you are particularly stable even when the ship is at anchor. This makes the ship an ideal choice for your diving adventure in the Cocos Islands in Costa Rica.
As a result of the renovation, the ship has been converted into a very comfortable diving ship, offers all the necessary facilities especially for underwater lovers and photographers - with individual storage options for the cameras in camera shelves with 110 and 220 volt alternating current charging stations.
The ship offers 10 air-conditioned cabins with private bathrooms for added comfort. It also offers a work and lounge area where you can relax, edit photos or watch a DVD.
The cook on board provides you with various, varied and balanced meals from a combination of American and local dishes from Costa Rica.
The ship has 10 air-conditioned cabins with private bathrooms and everything everyone needs for a comfortable stay. The 10 cabins are divided as follows: 5 single bed cabins, 3 double bed cabins and 2 suite cabins.
All 5 double cabins are on the lower deck.
This cubicle contains: personal hanging cabinets, shelves, drawers and hanging hooks. A private bathroom with 110 volt electrical outlets. The cabin is air-conditioned, carpeted and has a round porthole.
3 double cabins with bunk beds, 2 double cabins with separate beds.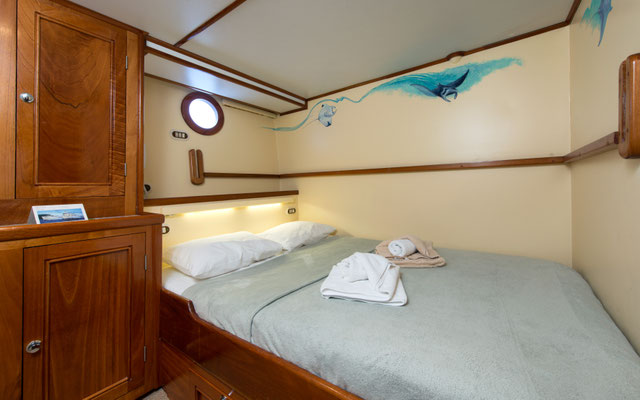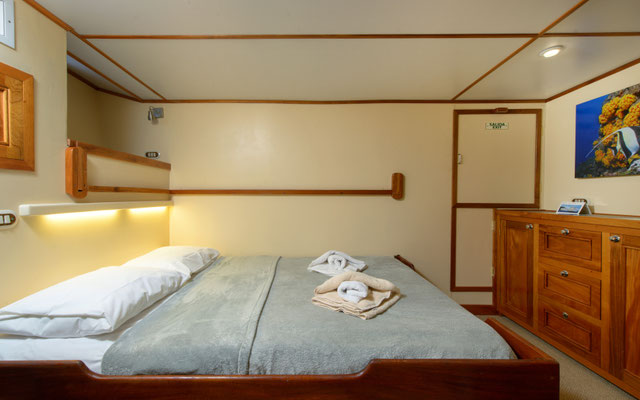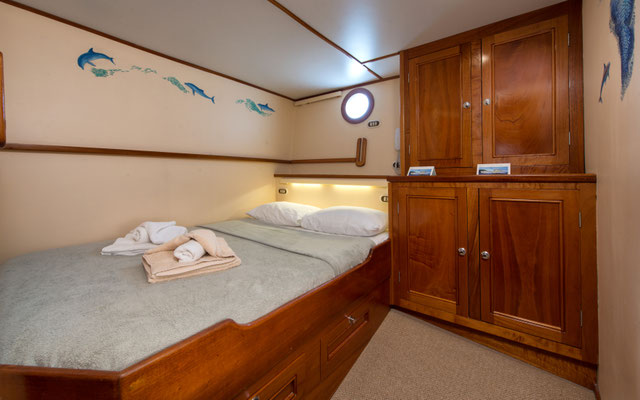 All 3 double cabins are on the lower deck.
Cabins with queen-size beds and optional upper bunk beds.
This cabin contains: personal hanging cabinets, shelves, drawers and hanging hooks. A private bathroom with 110 volt electrical outlets. The cabin is air-conditioned, carpeted and has a round porthole.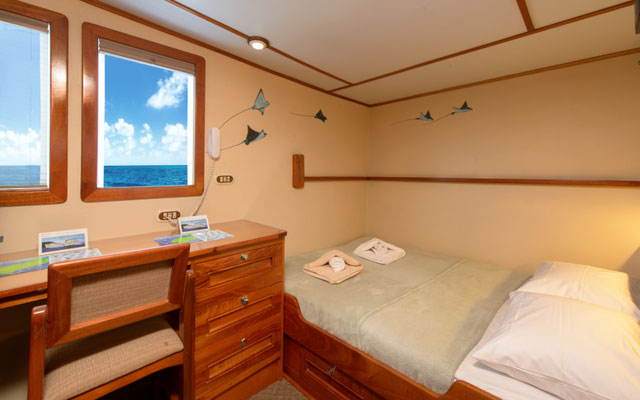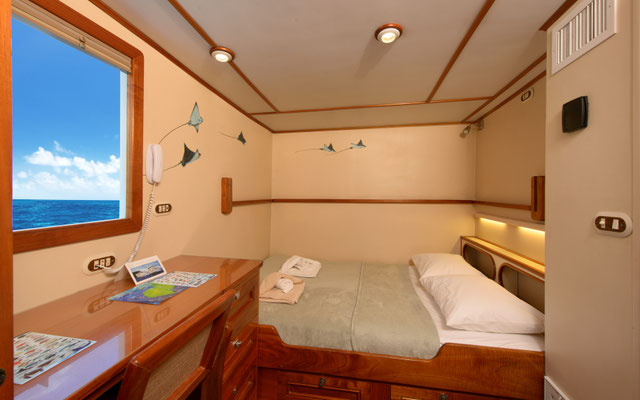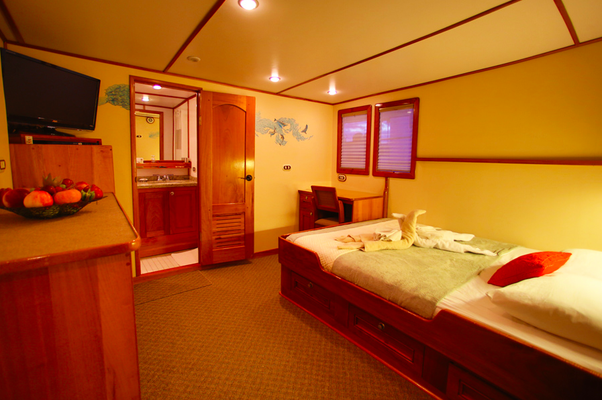 The 2 suite cabins have a queen-size bed and an optional upper bunk bed.
A suite cabin includes: cupboards, shelves, drawers and hanging hooks, a desk and chair, and a luxurious bathroom with granite tiles. It is equipped with 110 volt electrical outlets suitable for your electronic devices. The room has large windows and is carpeted. It has a satellite phone for international calls.
Each suite has a special themed room with hand-painted artwork by Carlos Hiller. Suite 9 has an eagle ray theme. In the owner's cabin there are schools of jacks and dolphins painted on the walls.
Note that the cost of the suite cabins is higher than that of the lower deck cabins.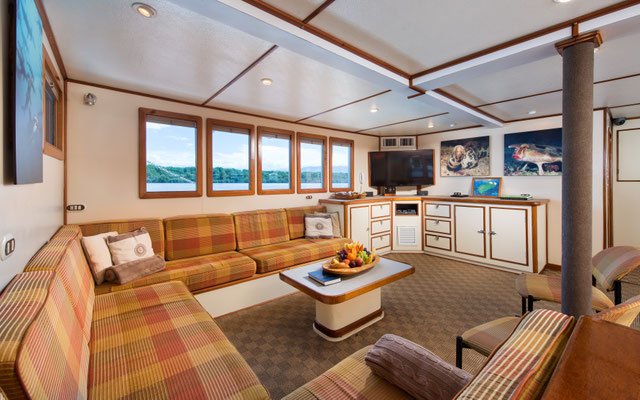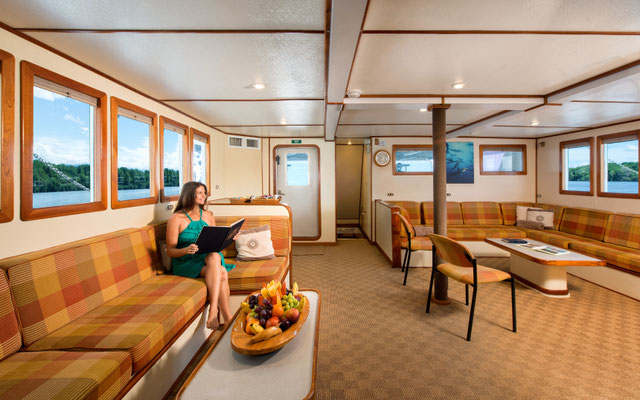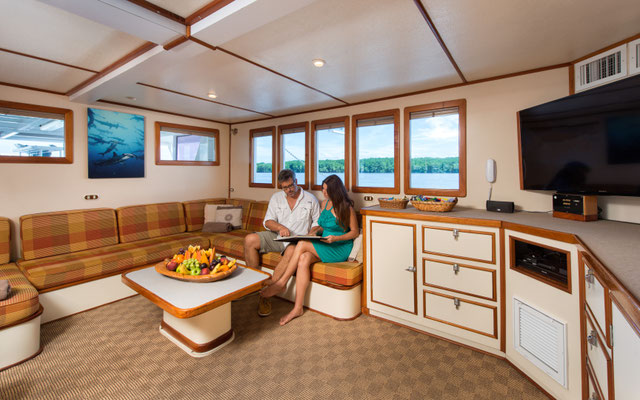 The lounge is spacious and comfortable with chairs and a long, padded seating area, which is ideal for sitting, lying down and even falling asleep. In addition to exchanging ideas with one another, there is also a large number of evening entertainment offers on board. This includes exciting presentations by the Galapagos Shark Diving Team, DVDs, videos, games and more.
The refrigerator is constantly refilled and filled with soft drinks, beer and ice so that you can always find something to eat.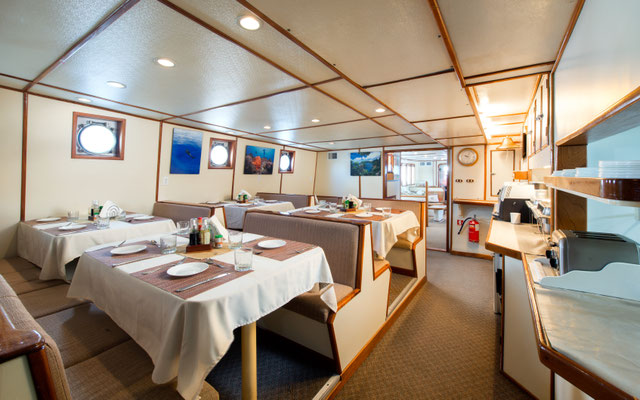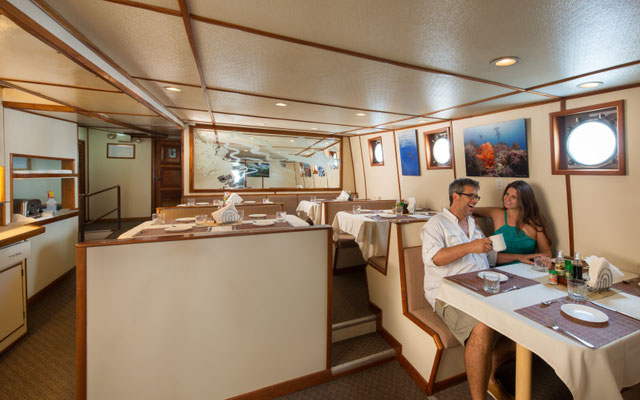 The dining room consists of five tables for 4 people each, arranged in two rows. They are arranged so that they are cozy while allowing conversation over the tables.
The menu on board is a skillful combination of American and local Costa Rican cuisine. The meals are varied, plentiful and nutritionally balanced. There are fresh tropical fruits, salads, fish, chicken, beef and much more that are prepared in a variety of ways. Our guests repeatedly praise the creativity of our chefs in preparing delicious and unforgettable meals at sea. Please let us know if you have any special dietary needs or requests.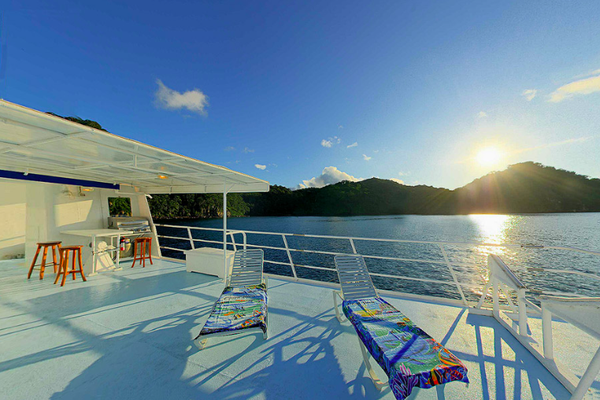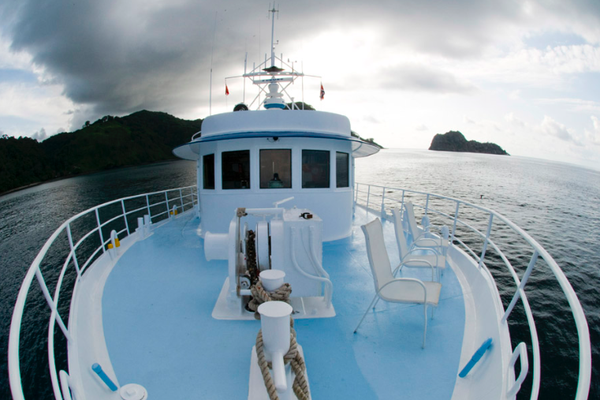 This 1000 square meter area is really versatile. Feel at home, read a book in one of the deck chairs, enjoy the sunshine on your skin or watch a sunset. Our cooks also like to use this area for a great barbecue evening with dancing under the starry sky. The large open area was specially designed for the landing of a helicopter and is also used for special expeditions.
The bow of the ship is very spacious. Passengers can stroll along here or breathe in the fresh sea breeze while enjoying the beautiful views of sunsets or taking in the sight as we approach islands or dolphins surfing in the bow of the boat.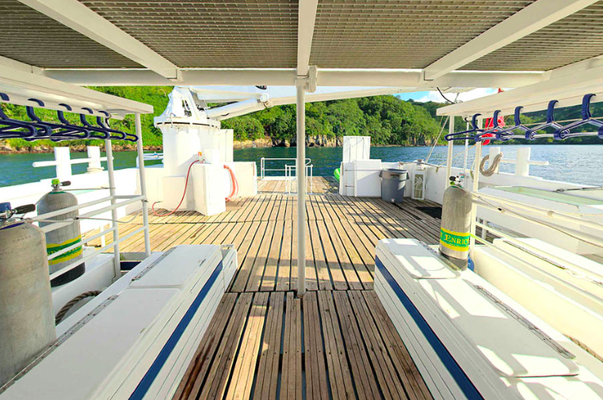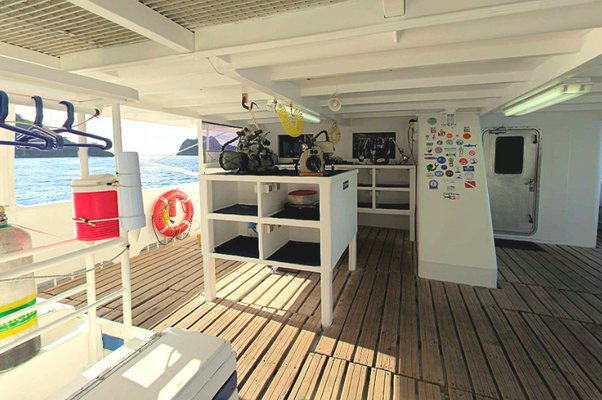 Between the dives, this huge, extended diving platform is often converted into a swimming deck or launch platform for our kayak tours. At night, it's a popular hangout for big fish spotting, including shark activities that are attracted by the lights.
The facilities on the diving platform are very well designed and offer each diver a separate, individual space for his equipment. This includes storage space under each seat, another large storage compartment with sockets for charging the batteries and easy access to a protected area where even the largest camera housings and lights have space.
There are 20 lockers for personal cameras on board. There are numerous 110 and 220 volt sockets for charging the batteries, flash units, and other electronics. These are located in all personal camera lockers and also above the camera shelf.
Work & reading area
This room has very comfortable seating and a library that creates a relaxed and private atmosphere in the room. The room has a TV, a video and DVD recorder and a PC so that all guests can view, edit or share their videos and photos. In addition, we also use this room as a study room for the theoretical part of the diving courses / training. It also serves as an intimate classroom for our theoretical courses.
The ship's bridge is a fully equipped modern navigation and communication center. It has the latest marine electronics to ensure a safe journey at sea. A satellite telephone system can also be found here.
Our guests are welcome to visit the bridge at any time.
Take a moment and start a conversation with the captain and crew, see all of the beautiful scenery along the way, or make your international phone calls.
Technical data and equipment:
Length:
115 ft / 36 m
Width:
26 ft / 8.1 m
Draft:
8 ft / 2.5 m
Displacement:
250 tons
Construction:
welded steel with teak working deck
Engines:
Double GM 16V92 / 1200 total output
Travel speed:
9.5 knots

maximum

Speed:

10 knots
Range:
3,500 nautical miles
Endurance:
30 days (limited by food supply)
Inflatable boats:

Two 24 foot high performance fiberglass inflatable boats, 17 ft rigid bottom, inflatable

"Portable"

Generators:

GM 6-71 75kw

John Deere 105kw

Portable generator 5kw

Available voltage:

110/220 VAC

60 Hz

3-phase 208 VAC

12 VDC

Fuel tank:
20,000 U.S. gallons (78 tons)
Water tank:

15,000 gallons (60 tons)

1,800 gallons / day of water production
Security:

Two lifeboats for 25 people each.

Complete safety equipment for boat, crew and guests.

Fire extinguishing system on the entire ship.

Comprehensive first aid kit.

20 personal diver search systems.

Submersible compressors:

2 HP compressors

1 nitrox generator
Scuba tanks:

30 aluminum diving cylinders of 80 cu / ft

2640 cu / ft high pressure storage bank

Technical diving:

Full oxygen, nitrox and rebreather service.

Passengers must bring their own rebreathers.

Electronics:

3 GPS (Global Positioning Systems)

2 radars (48 and 32 miles)

2 recording catheters

Radio direction finder SIMRAD

Autopilot

2 VHF radios

3 VHF handheld radios,

SSB radio (SEA 222)

Multi-system television, CD stereo and DVD player.

multimedia

Desktop computer

Starlit phone, satellite phone

Miscellaneous:

20 personal diving storage compartments

20 personal camera lockers with stabilized and surge-protected 110 V sockets.

Air conditioning throughout the ship

Washing machines and dryers as well as two refrigerators and ice machines.

12 ton deck crane (55 feet reach)

10.3 mx 7.4 m working deck area.

44 foot x 24 foot sundeck (1000 sq. Ft.) And lounge chairs.

Fully equipped workshop with electric and gas welding equipment.

Guest accommodation:
For 20 guests 10 single bed / double bed cabins, all with toilet and shower.
Crew / crew accommodations:

For 14 crew members - 7 crew cabins and 3 crew toilets.