What is the best alternative to Ontraport
Marketing automation software in comparison
It has certainly happened to you that before you buy something you are confronted with a multitude of offers and cannot make up your mind. Should I buy the cell phone from Apple or Samsung, or the laptop from Acer or Asus? The decision is often not easy, it depends on many factors, such as price, design, functionality, etc. Many people face a similar problem when choosing the right marketing automation software. With this article we want to make your decision a little easier. Here we present you the most popular marketing automation tools in comparison.
Before I introduce you to the individual automation tools in detail, I will show you the prices in comparison in this table:
| | | | |
| --- | --- | --- | --- |
| Marketing automation software | Smallest package price from (per month) | Medium package price from (per month) | Big package price from (per month) |
| HubSpot * | €46 | €740 | €2.944 |
| Marketo | On demand | On demand | On demand |
| Salesforce Pardot | $1.250 | $2.500 | $4.000 |
| Oracle Eloqua | $2.000 | $4.000 | On demand |
| Infusionsoft | $79 | $149 | $199 |
| Active Campaign | $49 | $129 | $229 |
| Sharp Spring | $550 | $850 | $1.250 |
| Ontraport | $49 | $147 | $297 |
| Act-on | $900 | $2.000 | |
| Evalanche | $145 | $295 | $495 |
Table last updated on 06/09/2020.
* There are different hubs at HubSpot. We have given you the starting prices of the Marketing Hub here.
1. HubSpot
HubSpot describes itself as marketing, sales and service software that helps companies grow. All 3 areas are covered by the software. The company relies on the inbound marketing method and accompanies companies through the entire customer journey. In this way, leads can be well looked after from the beginning to the end.
It's especially noteworthy that HubSpot's CRM has always been free and (hopefully) will continue to be. As far as the other pricing model is concerned, HubSpot offers services in 4 different hubs - Marketing, Service, Sales and CMS (brand new since 2020). There are three packages with different scope of services in each hub.
Advantages: Very simple and intuitive usability, no programming knowledge required, covers the entire inbound marketing process, great support, extensive learning center, extensive range of partners, constant further development.
Disadvantage: Extra costs for many additional functions, high price, frequent adjustments require constant learning (this can also be an advantage.
Suitable for: There are offers for small, medium and large companies.
We in our agency have been using HubSpot since 2013 and were also the first HubSpot partner agency in Austria. We are total fans! :-)
Prices: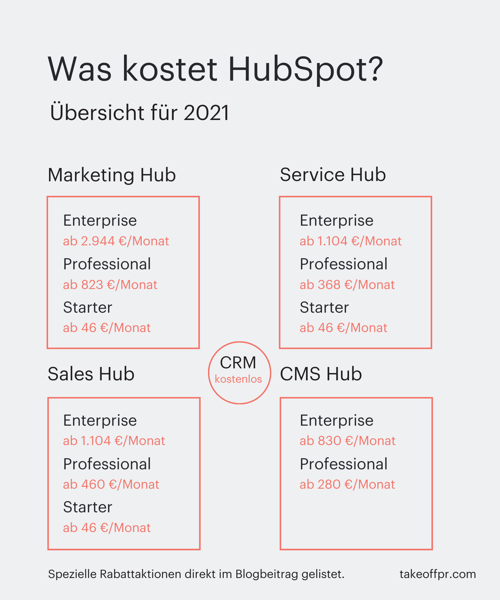 If you'd like to learn more about HubSpot's pricing, you can find a dedicated article here.
2. Marketo
Marketo describes itself as the world's leading engagement platform for the modern marketer. The focus is on lead management, marketing automation and campaigns as well as account-based marketing.
Advantages: Partnerships, Salesforce Integration, extensive campaign management, segmentation of the target group, customer support.
Disadvantage: High price, system becomes slow for certain tasks, reporting could be improved, long learning curve due to numerous functions, customer support, user experience, much more difficult to use than the market leader HubSpot.
Suitable for: Suitable for large, medium and small businesses.
Price from Marketo:
Marketo bills according to packages, it depends on which package you need and how many. Prices are therefore only available on request.
3. Salesforce Pardot
Pardot is a cloud-based B2B marketing automation software and has been part of Salesforce since 2013. It can be used independently or in combination with the Salesforce Sales and Service Cloud. This provides an overall solution for marketing and sales with which leads can be optimally looked after.
Advantages: Customer support, Salesforce integration, ease of use, no contract, many functions and add-ons available.
Disadvantage: Very high price, e-mail editor and landing page editor could be improved, a lot of functions - long learning curve, no free version available, few integrations available, weak social media platform.
Suitable for: Medium and large companies, especially for B2B.
Price from Pardot: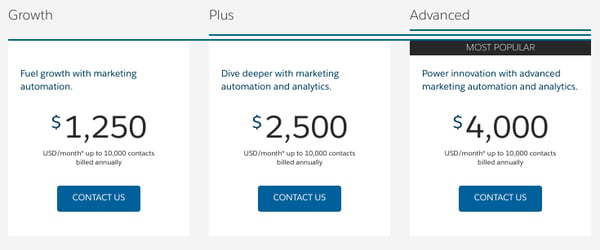 4. Oracle Eloqua
Eloqua has been around since 1999 and is one of the leading SaaS platforms for lead management, marketing automation and sales. In 2012, Eloqua was acquired by Oracle. Leads can be qualified, assessed and passed on directly to sales. It also has an email marketing solution, a reporting tool and a campaign management tool.
Advantages: Very good campaign tool (Campaign Canvas), easy to use, high adaptability and flexibility, good training available, integration with CRM platforms.
Disadvantage: High price, complicated set-up, reporting needs improvement, UX and design are out of date, poor support, technical skills are a prerequisite, no further development.
Suitable for: Large companies, high budgets, technical skills are necessary.
Oracle Eloqua Price:


5. Infusionsoft

Infusionsoft is a web-based marketing automation software especially for smaller companies and freelancers. It offers a variety of options for marketing automation, CRM and sales such as workflows, analytics, sales pipeline, payment and integrations.
Advantages: Low price, good contact management, ease of use, usability, good support.
Disadvantage: Not suitable for large companies, training required to understand all functions, no third-party CRM integration.
Suitable for: small businesses
Infusionsoft prices:

6. ActiveCampaign
ActiveCampaign is a business marketing application especially for smaller companies. The main functions are email marketing, marketing automation, sales + CRM and messaging.
Advantages: Unlimited lead scoring, high-quality e-mail tool, over 150 integrations available, low price, easy handling, good customer service, ongoing development.
Disadvantage: Not suitable for large companies, limited mobile app, high learning curve.
Suitable for: Particularly suitable for SMEs.
ActiveCampaign prices: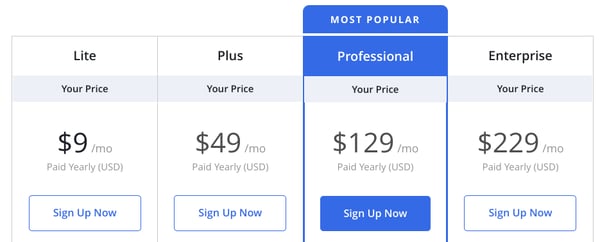 7. Sharp Spring
SharpSpring is an all-in-one marketing platform for small and medium-sized companies as well as agencies. It is a very flexible platform and offers, among other things, a behavior-dependent e-mail system, its own CRM, but also the option of integrating third-party providers, social media, landing pages and blogging tools. Above all, SharpSpring wants to set itself apart from its competition through the lower price.
Advantages: High flexibility, own CRM, monthly contract, particularly suitable for agencies, great support, training platform, lower price than direct competition.
Disadvantage: E-mail creation program is not user-friendly, reporting tool is expandable, mobile app is not yet fully developed, not suitable for large companies
Suitable for: Small and medium businesses, agencies
SharpSpring pricing: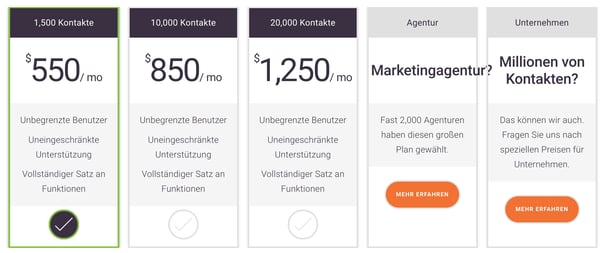 8. Ontraport
Ontraport is a marketing automation and reporting platform aimed at entrepreneurs and small businesses. It includes a visual campaign tool, real-time reporting, email marketing and much more.
Advantages: Customer support, low price, high e-mail rate, e-commerce functions, easy implementation.
Disadvantage: Not suitable for large companies, not very many integrations available yet, reporting tool dashboard is not displayed visually, UI is out of date, not very user-friendly.
Suitable for: Particularly suitable for small businesses.
Ontraport prices:

9. Act-on

Act-on is a cloud marketing automation platform that includes lead management, analytics, social media, event planning, webinars and email marketing. It is aimed primarily at marketing beginners, as it only provides limited functions and is therefore easier and faster to understand and use.
Advantages: Simple setup and use, flexible monthly price structure, integration with other CRM systems, simple campaign management.
Disadvantage: Limited functions, weak analysis tool, slow lead scoring, not suitable for advanced marketers, user interface is out of date.
Suitable for: For SMEs
Act-On Pricing: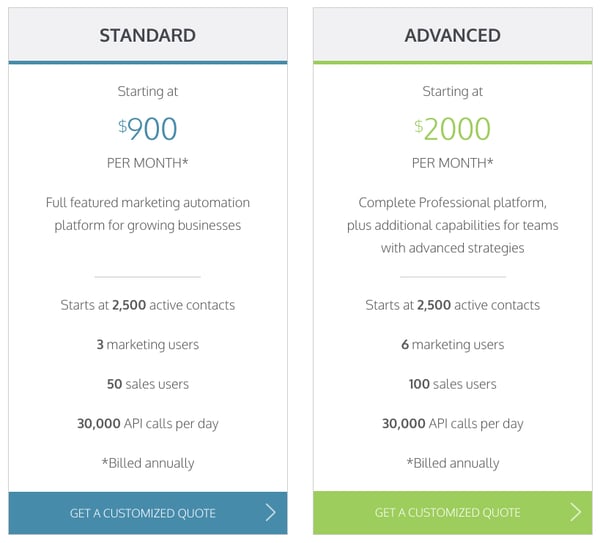 10. Evalanche
The marketing automation platform Evalanche supports companies in digitizing and automating their marketing and sales processes. Evalanche offers privacy-compliant email marketing and lead management as well as professional marketing automation. The platform is hosted exclusively in German data centers that - like the manufacturer SC-Networks GmbH - are ISO 27001 TÜV-certified.
Advantages: Free test phase, Made in Germany, no minimum contract period, numerous connectors and interfaces to CRM, BI and shop systems (best-of-breed), intuitive user interface
Disadvantage: No social media integration
Suitable for: Small, medium and large companies as well as agencies.
Prices: Quick and easy entry from € 145 per month Upgrade for automations from € 295 per month and all functions are available from € 495 per month. Further prices on request.
Conclusion: Marketing Automation Software Comparison
Every marketing automation software has its advantages and disadvantages. It is therefore important to look around carefully beforehand which one is best for your own company. There are now countless offers for automation software on the market and this list is far from complete. We will try to keep adding to the list in the future. If you are missing an important piece of software, simply send us your suggestion and we will add it. I hope you still got a better overview and maybe this article will help one or the other with their decision.
Note: All ratings (advantages and disadvantages) were taken from G2 Crowd. The selection of the 10 most popular software was made on the basis of research - I have included the most popular ones.
Are you already using HubSpot or considering getting one? Good news: We started hosting recently A free and non-binding HubSpot consultation hour every Thursday. Register here: