Ephedrine is a prescription drug
Ephedrine

Drug groups

Ephedrine is an active ingredient from the group of sympathomimetics, which constricts the blood vessels, dilates the bronchi and increases blood pressure. It is injected for hypotension and bronchospasm, and is also found in some cold medicines that are given orally. The most common possible adverse effects include central nervous system disorders and digestive disorders. Ephedrine can be misused as a stimulant, as a precursor chemical for the synthesis of illegal intoxicants and as a doping agent. Therefore caution is advised when dispensing.
synonymous: Ephedrinum, Ephedrini hydrochloridumPhEur, Ephedrine hydrochloride
Products
Ephedrine is commercially available in Switzerland in the form of injection solutions, combined cold remedies and veterinary medicinal products.
Structure and properties
Ephedrine (C.10H15NO, Mr = 165.2 g / mol) is often present in medicinal products as ephedrine hydrochloride, a white, crystalline powder or colorless crystals that are easily soluble in water. Other salts are also used, e.g. ephedrine sulfate.
Ephedrine is a natural substance which is made from Ephedra-Types can be obtained (Ma Huang). It was first isolated by Nagajosi Nagai in Tokyo in 1887.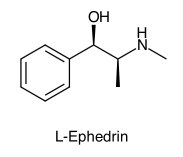 Effects
Ephedrine (ATC R03CA02

) has direct and indirect sympathomimetic properties. The effects are based on the stimulation of alpha and beta receptors. The effects include:
Expansion of the bronchi
Decrease in appetite
Narrowing and widening of the vessels
Increase in blood pressure and heart rate
Central stimulation
The half-life is between three to six hours.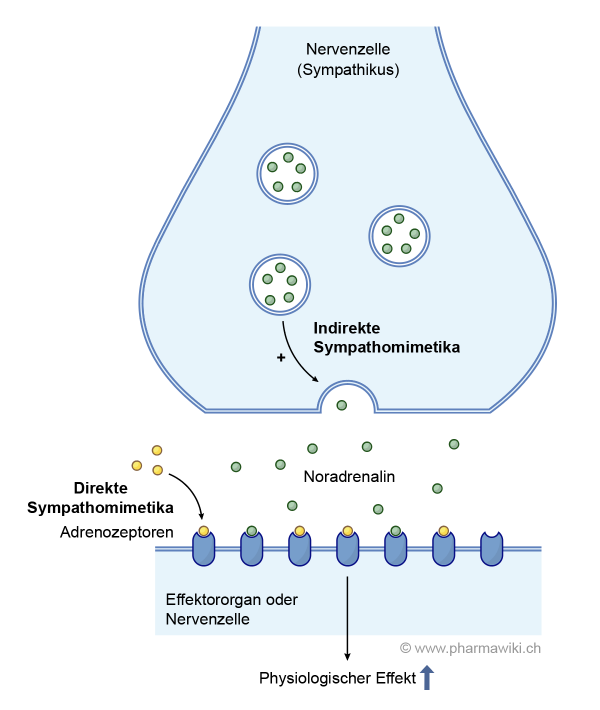 Mechanism of action of the sympathomimetics, click to enlarge. Illustration © PharmaWiki
Indications
In veterinary medicine, ephedrine is used, among other things, to treat urinary incontinence in dogs.
dosage
According to the specialist information.
abuse
Ephedrine can be misused as a stimulant, party drug, doping agent and as a precursor chemical for the synthesis of illegal intoxicants (methamphetamine). Therefore caution is advised when dispensing.
Contraindications
Hypersensitivity
Hypovolemia as monotherapy
Hyperthyroidism
Thyrotoxicosis
Patients with certain cardiovascular diseases
Severe arteriosclerosis
Angle-closure glaucoma
The complete precautionary measures can be found in the product information sheet.
Interactions
Ephedrine has a high potential for interaction. Drug interactions are possible, for example, with other sympathomimetics, MAO inhibitors and beta blockers.
unwanted effects
The most common possible adverse effects include psychiatric disorders (high doses), central effects such as nervousness, feelings of tension, irritability, agitation and insomnia, headache, nausea and vomiting.
In the event of an overdose, paranoid psychoses and hallucinations can occur, among other things.
see also
Caniphedrin®
literature
Medicinal product information (CH)
Chen K.K., Schmidt C.F. The action of ephedrine, the active principle of the Chinese drug Ma Huang. Journal of Pharmacology and Experimental Therapeutics, 1924, 24 (5), 339-357
Doping list
European Pharmacopoeia PhEur
swell
Scheindlein S. Ephedra: once a boon, now a bane. Molecular Interventions, 2003, 3 (7), 358-359
Shekelle P.G. et al. Efficacy and safety of ephedra and ephedrine for weight loss and athletic performance. JAMA, 2003, 289 (12), 1537-1545 Pubmed
Soni et al. Safety of ephedra: lessons learned. Toxicology Letters, 2004, 150, 97-110
Ordinance on precursor chemicals
author
Conflicts of Interest: None / Independent. The author has no relationships with the manufacturers and is not involved in the sale of the products mentioned.
additional Information
Support PharmaWiki with a donation!
© PharmaWiki 2007-2021 - PharmaWiki provides independent and reliable information about medication and health.
This article was last changed on 5/10/2021.
Imprint and data protection declaration
Show products for this page