Who can collect sales tax?
Who has to invoice sales tax?
Well who? Anyone who issues an invoice? No, unfortunately the answer is not that simple. Here you can find out who has to claim sales tax on their income and pay it to the tax office. And of course, how to find out if you belong to this group yourself.
---
Sales tax for entrepreneurs - and for private individuals?
Sales tax must be paid on invoices from companies or entrepreneurs. It is accordingly levied on all goods and services. It is a so-called end-consumer tax, i.e. VAT is a transitory item for entrepreneurs and companies, while the tax is exclusively borne by the end consumer.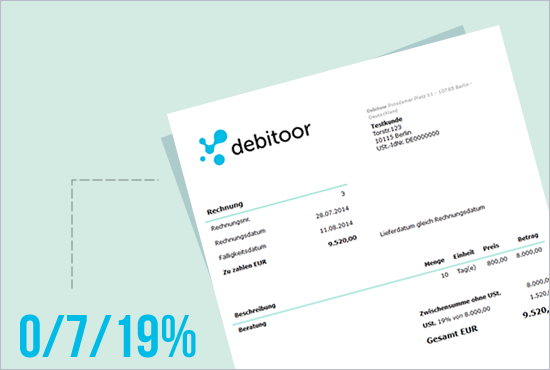 Entrepreneur versus employee
An entrepreneur is someone who carries out a commercial activity independently. Whether or not you make a profit from your work doesn't matter. A freelancer (subject to commercial obligations) is therefore an entrepreneur - an employee is not.
What about private individuals?
Anyone who sells their old television on eBay is not an entrepreneur. If the private sales do not exceed a certain amount, it is sufficient to issue what is known as a "written acknowledgment of receipt" - without a VAT ID, but with the addition "private sale". This is how you document the sale and at the same time confirm receipt of payment.
0, 7 and 19 percent
The sales tax must therefore be collected by entrepreneurs. But who has to invoice how much?
19%: standard for entrepreneurs
19% is currently the standard rate for sales tax. It applies to all entrepreneurs for whom there is no exception that entitles them to a lower sales tax rate (7%) or not to collect sales tax.
7%: Artists & Co.
The reduced sales tax rate is 7%. It is levied on books, works of art, taxi rides and certain foods, for example. Do you want to know if your offer falls under the reduced rate? The beneficiary goods and services are detailed in the sales tax application decree.
0%: small business owners & certain professions
Small businesses are exempt from sales tax and are not allowed to deduct any input tax themselves (on purchases). What else you need to consider when doing bookkeeping can be found in the article on invoicing for small businesses. Certain professional groups such as doctors, midwives and insurance brokers are also excluded from the collection of sales tax. You can find detailed information about VAT-free professions in § 4 UStG.
Sales tax is the most important source of income for the state. He is therefore very interested in ensuring that as many entrepreneurs as possible pay sales tax. Switching to the small business regulation after starting your own business is therefore only possible after five years!
Already knew?
Did you find out that you are liable for sales tax? Don't worry: charging sales tax is not difficult. With the simple Debitoor invoicing program, it's quick and stress-free.
---
similar questions
How do I invoice sales tax?
Sales tax - input tax - sales tax?
What is the difference between target and actual taxation?
What is input tax? How can I get the input tax back?