1080p is good for a projector
Projector for outside
Use in the garden, terrace, balcony, garage or whichever is the right projector
Summer time is particularly suitable for outdoor cinema. In contrast to a television, a projector can be easily carried outside spontaneously for a movie night under the stars. Projectors are also particularly useful when camping. In the following you will learn more about the perfect setting of your outdoor cinema projector.
Topics of this guide:
The best projectors for outdoor cinema
Can I install an outdoor cinema without a screen?
General solutions for outdoor cinema projectors
Tips for outdoor projections in the garden
The best projectors for outdoor cinema
There are currently no projectors that are designed exclusively and exclusively for outdoor use. However, many of the home theater projectors and also business projectors can easily be adjusted to outdoor terrain.
In order to project those large and vivid images that projectors are known and appreciated for, we strongly recommend that you use an HD model. Most home theater projectors are 720p or 1080p and will be more than adequate. You can also look for a business projector with a resolution of 1280 × 800 or higher.
Non-HD projectors will also work well outdoors, but they won't conjure up the image quality like their higher-resolution counterparts.
You also need a computer with an HD output, or a DVD or Blu-ray player for your outdoor cinema. A few of the current home theater projectors have a built-in DVD player or an iPhone interface, making them a perfect all-in-one solution. Just don't forget the extension cord!
Another quick tip! No matter how often you use your outdoor cinema, we strongly advise against leaving your projector outside after use. This also applies to the canvas.
Recommendations from us: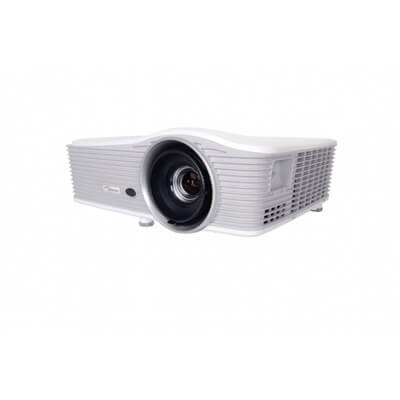 Optoma W515
6000 ANSI lumens | DLP | WXGA 1280 × 800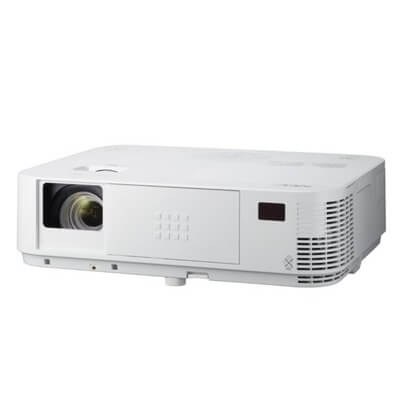 NEC M403H
4000 ANSI lumens | DLP | Full HD 1920 × 1080
Values ​​for outdoor projectors:
Brightness:3,000 lumens or more
Resolution:HD (720p or 1080p)
Connections: HDMI or component video
Projector audio: Some projectors have built-in speakers. If not, or if you need better audio quality, try portable speakers with built-in amplifiers (powered speakers)
Video source: Look for projectors with a built-in DVD player or iPhone dock, or take out your own
Can I install an outdoor cinema without a screen?
The answer is: yes, of course. You can create your own projection surface using, for example, the wall of your house, the garage door, a plate or a bed sheet. How you do it is ultimately up to you. The best outdoor cinemas only consist of a projector and a sheet between two trees.
General Solutions for Outdoor Cinema Projectors - It's Summer - Let Us Do Your Homework for You! We have created a package that includes everything you need for a perfect movie night under the stars. You save money and time.
Do not forget
A power strip
An extension cord
An inexpensive DVD or Blu-ray player (if your projector doesn't have a built-in)
An entertaining film
External speakers (if your projector has no built-in speakers)
Food and drinks (food and drinks should always be kept away from electronic devices)
Tips for projections in the garden:
Invite your neighbors or inform them that lifelike pictures may appear or noise may arise in the garden
Cinema events in the garden are best started at dusk
Make sure that you do not show any films that have not been approved by the dealer.
remember that cables can always be dangerous tripping hazards
Watch out for the weather!
Keep your electronics as far away from pools, grills, or dogs and cats as possible
Turn off your sprinkler system before setting up the theater
Also, keep in mind that a projector is not a coaster for beer bottles and vodka glasses
Observe the operating instructions for special settings in the outdoor area
Projector with more than 7000 Ansi lumens
​
Your direct contact