What are the uses of polymers
Areas of application of plastics
Plastics have changed the world in the past century.
The polymer all-rounders have led to completely new products, advanced technological progress like hardly any other material and opened up new perspectives for engineers to implement their ideas. However, the innovation potential of plastics is by no means exhausted.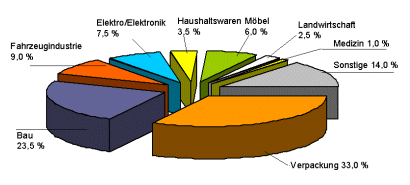 Fig. 1 Areas of application for plastics
Materials have always given their names to the great epochs of human development: The polymer era has only just begun.
Plastics are innovative materials. Many technical developments, such as in the aerospace industry, in automobile and aircraft construction or in electrical and communication technology, are no longer conceivable without the targeted use of new materials. Technical progress and material development go hand in hand, and polymer materials pave the way for economic, ecological and social progress.
1. Electro + electronics
Plastics have been used in the electrical and electronics industry from the start. They are easy to shape, tough, flexible and ideal insulating materials. Today they are indispensable in a large number of applications. From simple cables to computers - crucial parts of all modern devices are made of plastic. In addition to the traditional areas of application of plastic, there are now a large number of new applications; Innovations that make life easier and often make an important contribution to protecting our natural resources.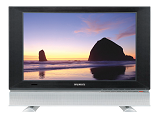 LCD TV
For example, an innovative LCD flat screen manufactured on the basis of liquid-crystalline plastics saves electricity day after day: compared to conventional screens with cathode ray tubes, it consumes around two thirds less energy.
There is still a lot of potential in "new" communication offers: a large number of communication and information offers can be used from home. This leads to far-reaching changes in the process of many systems, such as the relief of the traffic system through the services offered by tele-shopping or video conferencing.
2. Medicine
Plastics are ubiquitous and vital in medicine. Polymers are used to make wafer-thin gloves, as well as disposable syringes, probes, tubes, heart valves, artificial hip joints and contact lenses.
Plastics help to maintain life and make it more liveable. Artificial limbs help to maintain and perfectly imitate natural body functions.
Modern technologies for operations and equipment technology open up new dimensions in medical progress. Plastics will still give a lot of impetus to medicine. In the future, everyday clinical work will be determined more and more by surgical robots with which surgeons can perform their interventions with precise, tiny cuts. Operations will be less complicated and with fewer side effects for the patient.
3. Mobility
Different modes of transport - car, bus, train, plane and others - stand side by side. Plastics play an essential role everywhere.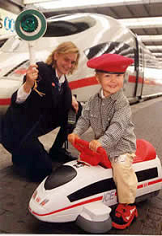 The German train
Buses and trains
From the classic "railroad" to trams, underground and suburban trains to buses in local and tourist traffic: Today we expect more from means of transport than just transport. For example, the trams should be easily accessible and if possible "at ground level" - so-called low-floor technology - they should offer a large number of comfortable seats, be economical and make little noise. Plastics help in a wide variety of ways to meet these requirements. They bring more security into the interior because they can be optimally shaped so that there are no sharp corners and edges. They can also be made flame-proof. In addition, plastics are light and thus also make the railways lighter. And: They insulate extremely efficiently against noise, heat and cold.
plane
Today, the dream of flying is quickly over without plastics. A cursory glance into the interior of a modern airplane proves this. The use of plastics makes aircraft lighter, safer and faster. But that no longer only applies to the interior. Vertical and horizontal stabilizers, wing boxes, loading hatches, nose and landing flaps are now made from plastic composite materials. Even wide-body aircraft made of plastic are no longer a utopia. Not only improved aerodynamics, but also optimal structural strength and resilience as well as a much lower weight would be achieved.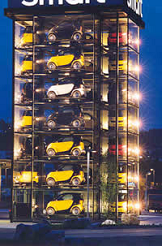 Smart tower
Car
A car is pure high-tech. It should be economical, safe, reliable, comfortable and inexpensive at the same time. The materials used must therefore meet the highest standards. Plastics meet these requirements in a constantly growing range of applications. Their proportion in the car is increasing accordingly: while a car still contained an average of 5 percent plastic at the beginning of the 1970s, it is 15 percent and more in new vehicles. The driving force behind this development is the sum of the advantages that polymers offer. Almost every required property can be tailored with them. The simple processing of plastics at relatively low temperatures is also impressive. This made it possible for plastics to find their way into almost all assemblies and applications in modern automobiles. Plastics make a convincing contribution to reducing weight without sacrificing safety. The result is an extremely resilient unit with three advantages: low weight, favorable crash behavior and high economic efficiency. The application of this technique was almost a revolution; Plastic became a stabilizing element in the vehicle, with a 40 percent weight saving compared to a pure steel component.
4. Packaging

Water dispenser
Plastics as packaging material are all-rounders and resource savers: Because eco-efficient is one that packs as much as possible with as little material as possible. Plastics are unbeatable: The weight of the packaging in relation to that of the contents is now 1 to 5 percent. In terms of weight, plastic has a share of around 19 percent of the German packaging market; But since plastics are very light, around 50 percent of all packaging is made from the small amount.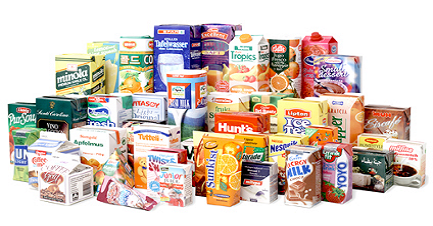 Packaged food
A simple example shows the importance of these figures for everyday consumer life: A bottle made of plastic PET holds one liter of water instead of 0.75 liters for a glass bottle. However, the empties weigh only around 60 instead of 450 grams, so they offer a significantly more favorable weight ratio of packaging to product. The plastic bottle is unbreakable, inexpensive and eco-efficient - in other words, it is economically and ecologically advantageous because it helps to reduce energy consumption and emissions during production and transport. However, what is decisive for the consumer is the pleasant "portability".
5 gallon water coolers (that's about 19 liters) Polycarbonate water bottles have long become a lifestyle item in Europe and the USA. They provide light refreshment in fitness centers, offices and supermarkets.
5. Building and living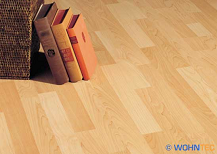 Floors
The demands on building and living are constantly increasing. Economy and ecology are no longer opposites, but natural requirements. Polymer materials help to meet these requirements better and better.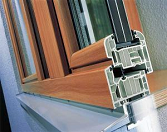 Plastic windows
The most effective measure to save energy in buildings in the Central European climate is the use of thermal protection systems. A study by the Fraunhofer Institute for System Technology and Innovation Research in Karlsruhe produced astonishing results: The energy consumption for the production of plastic thermal insulation materials pays off in terms of energy in the first year of use. In this way, plastics make a significant contribution to improved resource efficiency. Plastics and building and living are much more than that: plastic pipes transport water and wastewater in a hygienically safe manner, plastic windows close tightly and ensure that the heat stays inside, plastic safety glass makes life difficult for burglars, plastic floor coverings ensure comfort and Hygiene, and and and.
6. Culture, leisure, sport

A leather ball ...
Sports and leisure without plastics? That was once. Today it almost goes without saying that casual clothing made of polymer materials protects us. It starts with (functional) underwear and doesn't stop with waterproof, breathable jackets with a plastic climate membrane.
It is similar with sport. "Faster, higher, further" is the motto that plastics help to achieve. They enable new records, protect against injuries and ensure that the hobby is fun in popular sports.
Even football, the "round leather", has long since ceased to be made of leather, but consists of a multi-layer plastic structure. The ball only became really round through plastic, it flies much better and faster, and it no longer soaks up with water.

... and his descendants
Sport without plastics is unthinkable today. The trailblazer for the triumphant advance of plastics was high-performance sport. Hardly any competition arena still has a cinder track; the athletes are simply faster on plastic. In the past, racing boats and paddles were still made of wood, today plastics have prevailed due to their lower weight and high stability.

High performance hockey stick
The use of polymeric materials, especially in water sports, led to the idea of ​​connecting industry and water sports even more closely. The result: the plastics industry has been supporting water sports enthusiasts since 1996.
Plastics also have a firm place in art. Artists were often far ahead of their time in handling and using innovative materials, gave impulses and opened up new perspectives. The development of art is inextricably linked with the development of materials.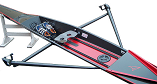 A "wood-free" rowboat
The sponsorship of art and culture - like the support of sport, science and schools - is part of a social commitment for the plastics industry. The plastics industry supports artists for whom plastics are increasingly the material of choice.