What are the best ingredients for natural oil
rosemary
Rosemary leaves have anti-inflammatory properties. They help soothe muscle tissue and reduce pain faster. The powdered leaves are ideal for the muscle ointment. One takes per 50 ml of oil
Willow bark
Actetylsalicylic acid was once discovered in the willow bark, which is why the willow bark has a mild analgesic effect.
Black pepper
Improves blood circulation and in this way has a healing and anti-inflammatory effect.
Arnica
Relieves sore muscles and bruises. However, do not use on damaged skin.
peppermint oil
Peppermint oil has an antispasmodic effect, calms the muscles and also has a cooling effect. The oil helps loosen up the muscles and relieves pain.
Sugar birch oil
The essential oil of the sugar birch warms and heals stiff joints. It is a traditional ingredient in ointments for athletes and horses in the United States.
Muscle ointment - the recipe
The recipe for a homemade muscle ointment is very simple, you just need a little time and the ingredients - and off you go!
Ingredients for your muscle ointment
a well-closable glass container (0.5 liters)
Dried herbs or spices (these can also be combined, do not use more than 1 teaspoon of each ingredient, 3 to 5 drops per 50 ml of essential oils are usually sufficient)
1 cup of oil (for example olive oil, coconut oil, etc.)
Beeswax
funnel
Paper coffee filter
a handy container for storage (empty ointment jars or jars are available from pharmacies or online specialist shops)
Preparation of your muscle ointment
Put the dried herbs or spices and the oil in the glass and close it. Shake everything thoroughly.
Now place the jar in a sunny place for about two to three weeks and shake it daily!
Once your mixture has turned a dark color, it is ready to be sifted. The best way to do this is to use a funnel and a coffee filter and let the mixture run through the filter until all of the oil has run through, which can take a good 1 hour.
Then heat the beeswax and the oil - but each separately - in a water bath. Use as much beeswax as you have oil for this. As soon as the wax has melted completely, mix it well with the oil, now add the essential oils and stir until the mass has a good consistency.
Now put the finished ointment in a handy container (so that you can easily reach into it with your fingers).
Then let the ointment stand for a few hours until it has cooled down. The ointment should now have a firmer consistency, but still be pliable so that it can be applied to the skin.
If the ointment is still too hard, you can always add a little more oil. If it is too runny, you can stir in a little more wax. The ointment can also be gently heated again and again for this purpose.
Muscle ointment - the application
The ointment is now ready and can be applied to sore or stiff muscles at any time. Store the ointment in the refrigerator for better durability. Before you apply it, you can warm it up a little in your hand.
We wish you a speedy recovery with your self-made muscle ointment!
donation
Your donation helps us
If you enjoyed this article, we would appreciate a small contribution to our work! Donate now with Paypal.
display
Distance training to become a holistic nutritionist
Are you interested in what's in our food and want to know how nutrients and vital substances affect the body? Do you want a healthy life for yourself, your family and fellow human beings? Nutritionists are popular - but the holistic aspect that is needed for sustainable health is often forgotten when giving advice. At the Academy of Naturopathy, you will get to know the connections between lifestyle and diet as well as physical and psychological well-being.
That educates interested people like you in around 16 months to become a holistic nutritionist out.
Is this article worth reading?
Share this article
swell
Debra Maslowski, "Homemade Balm for Sore and Stiff Muscles and Joints." DIYNatural.com, (Homemade balm for sore and stiff muscles and joints)
Notice on health issues
This information is passed to the best of my knowledge and belief. They are intended exclusively for those interested and for further training and are in no way to be understood as diagnostic or therapeutic instructions. We do not assume any liability for damages of any kind that arise directly or indirectly from the use of the information. If you suspect illness, please consult your doctor or alternative practitioner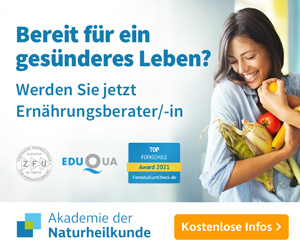 Subscribe to Newsletter
Exciting information about health and nutrition
1x per month
Login Successful. You will shortly receive a confirmation at the specified email address.
With your registration you allow the regular sending of the newsletter and accept the data protection regulations.
HEALTH CENTER © 2021 Neosmart Consulting AG. All rights reserved.