Why does Alaska have so much gold
If you look at the sign at the entrance to Dawson City and hear statements from the people who mine gold there, there must still be something worth finding.
So there is still something left for you. This is a great comfort when you arrive. When you stroll along the golden yellow flowing streams around Dawson City, you immediately think, "There just has to be gold in there." When we were there the first time, it was the same for us: We immediately examined the bank of the next creek: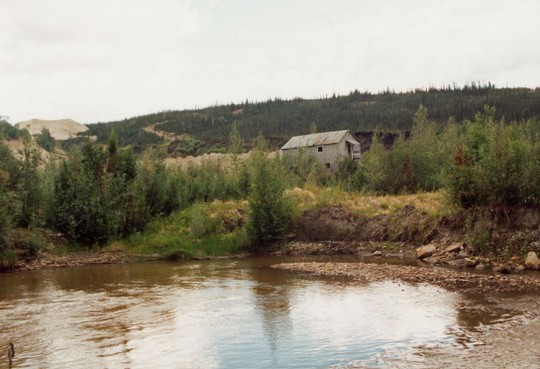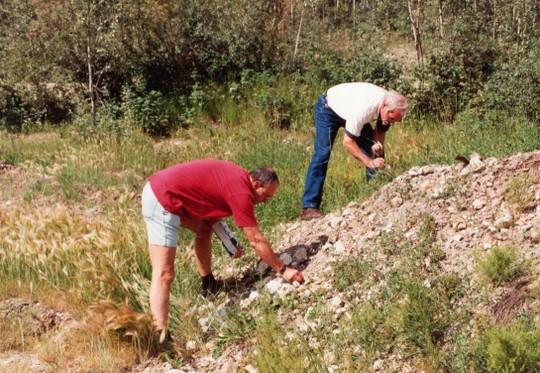 The gold fever seized us immediately, especially since we had read in our travel guide that the rivers and streams were by no means exhausted, but that a lot of golf was still being found. This impression was supported by the current production volumes in recent years: In 2019, gold worth more than 30 million dollars was mined in this area.

So you get the "Guide to the Goldfields", which is a free newspaper that is available all over the Yukon. You can get them in Whitehorse. You can even get the Guide to the Goldfields in bound form for € 20.51 from Amazon and study it at home. Or you can directly observe the "Dawson City Service Guide" with a map of the surrounding gold fields. Your heart will really open while reading: Names like "Bonanza Creek", "Discovery Claim" or "Bear Creek Mining Camp" will make your pulse race and from now on you will not allow yourself a quiet minute. Lets go!

So drive along Bonanza Creek to admire the Discovery Claim that made Shookum Jim, Tagish Charlie and George Carmacks rich men in 1896. Every shiny stone you see flashing in the sun will be carefully examined from now on. Is it real gold? How can you tell?
This gives you the unbridled urge to learn the craft of panning for gold. As a teacher, you have always had to give lessons outside of the subject. This was justified by the fact that a person with a scientific education could be expected to familiarize himself with foreign subject areas. So it is easy to acquire the necessary knowledge about gold panning on your own. Maybe with a guided tour of Bonanza Creek? By no means! Don't fall for a tourist slap who offers "panning for nothing"! There is nothing real there anymore.

My tip: visit the Goldbottom Mine.
It starts at the beginning of June every year.
The Goldbottom Mine
is located on Goldbottom Creek about 14 km from Dawson City. You can get there via Hunker Creek Road (the mine is marked as number 79 on the map). You should already spend $ 40-50 for an introductory lesson. This is inexpensive - you can also get it out of there with two meager substitution hours. But what you are offered for it is incomparably worth knowing. Who of your colleagues has been panning for gold on the Klondike? Probably nobody. In addition, with the photos or videos that you shoot during the tour, you can totally excite every school class in a substitute hour.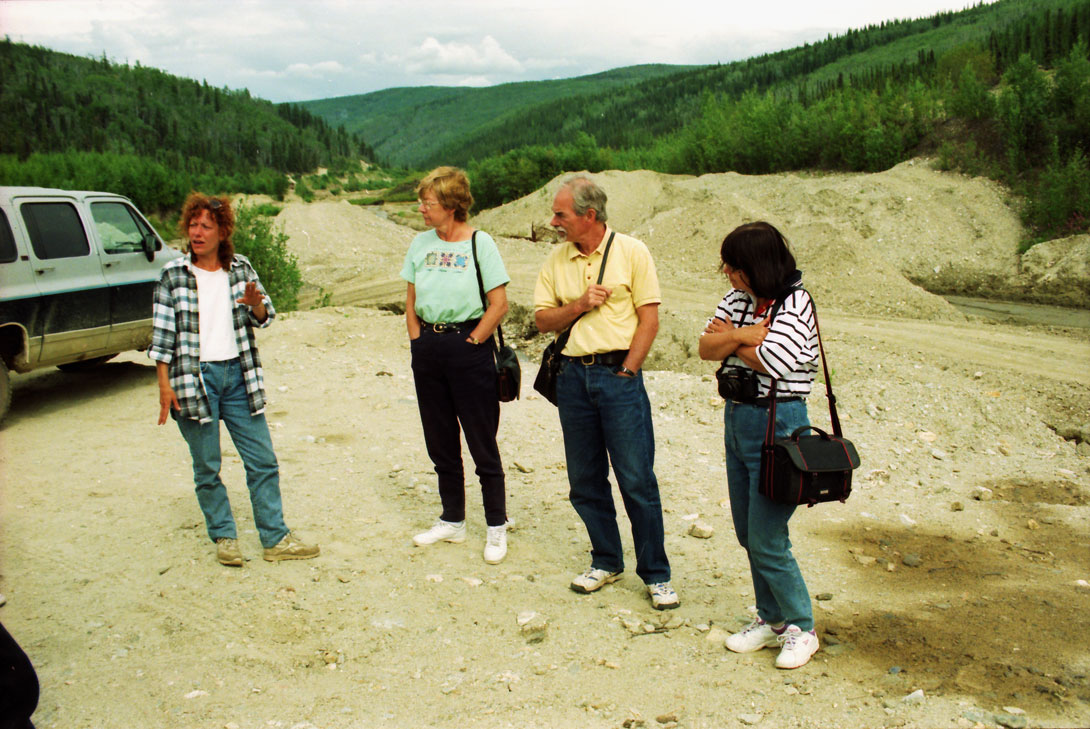 The friendly smiling red-haired mine owner explains everything you need to know to become a successful gold panner. You will also find out that it is very easy to register a claim. Registration is only $ 10. For this you get a 300m long and 150m wide strip along the stream. This includes the authorization to edit the surface. You will have to raise around $ 200 annually to maintain it.
Incidentally, the Goldbottom mine is operated by a pair of siblings who own 69 claims. However, each year both have to earn as much in 3 months as the other in 12 months. The ground here is deeply frozen (permafrost) and only a 1m thick layer thaws in summer. Only then can the excavators work.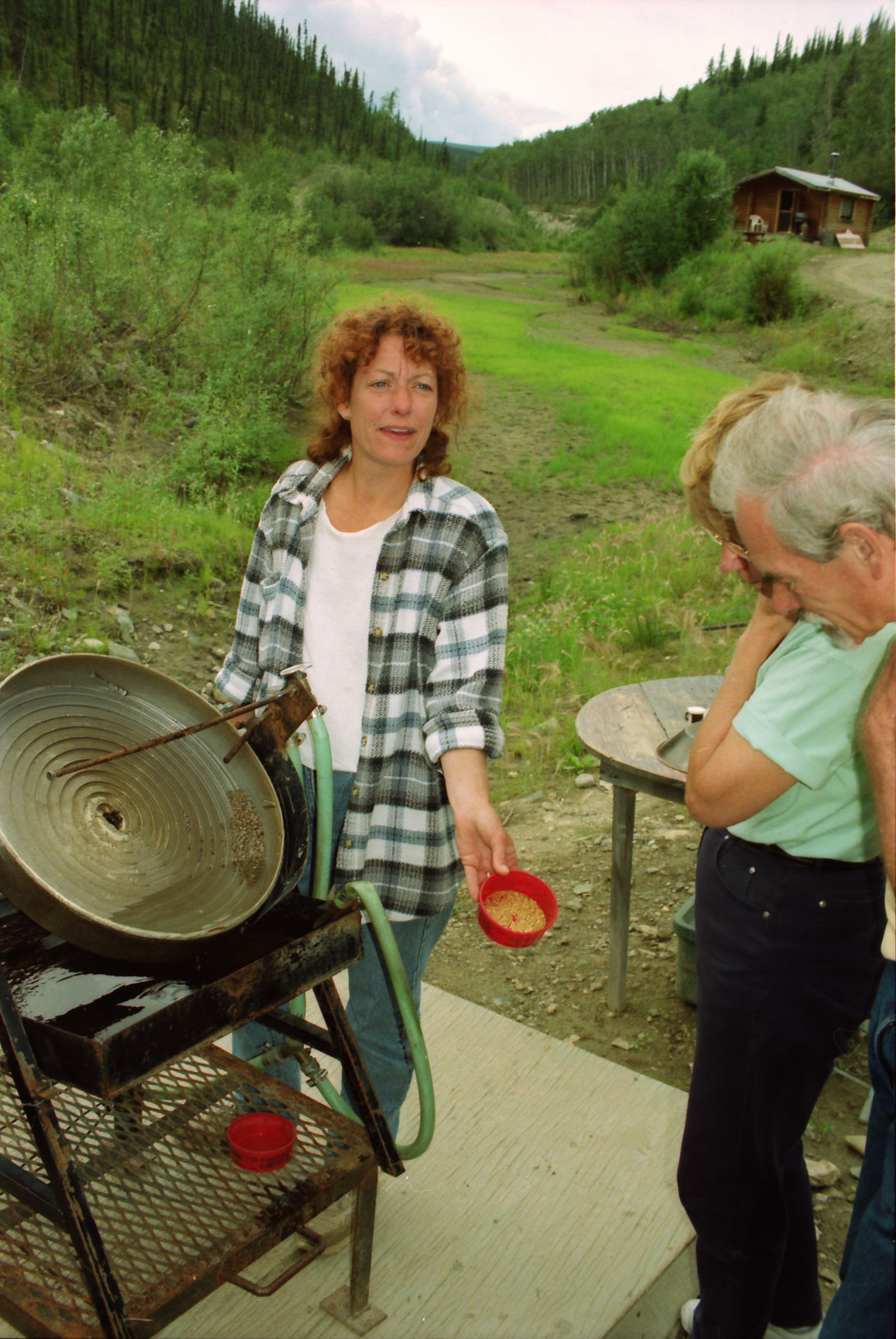 During the rest of the time nothing can be done; not even with heavy caterpillars; these simply slide away on the greasy frosty floor or mud. You can see that for yourself. When you tour the $ 15,000 shaker and find out that the mechanic who operates it gets $ 80 an hour, the excavator operators make $ 60 an hour, and the mine workers get $ 30 an hour, your self-employed enthusiasm will be in Canada likely to be subdued a bit. So for the rest of the year she works in another job in Whitehorse. Why is she doing all this? Because of course she's still hoping for the really big nuggets that are found from time to time. They make every miner's heart beat faster (by the way, she has an impressive collection of them in the house; I became really jealous!).
She herself has a gold washing machine - a nifty invention from the Goldrush period -: the gold is washed out of a water-powered tin bowl by continuously rinsing with a water hose. She proudly shows the daily yield in the photo.
Of course you can too! After an eight-hour day, you average $ 100 per day. Well, if that doesn't motivate you! You can rent a hut on the mine site for $ 100 per day (tin stove and lots of wood included), the equipment is cheap:
It consists of a shovel, a tin bowl (pan) and a pair of good rubber boots. When I first went there in 1998, the cabin was only $ 20 a day. In the meantime, the Millar family has understood that you can make more money with tourism than with prospecting.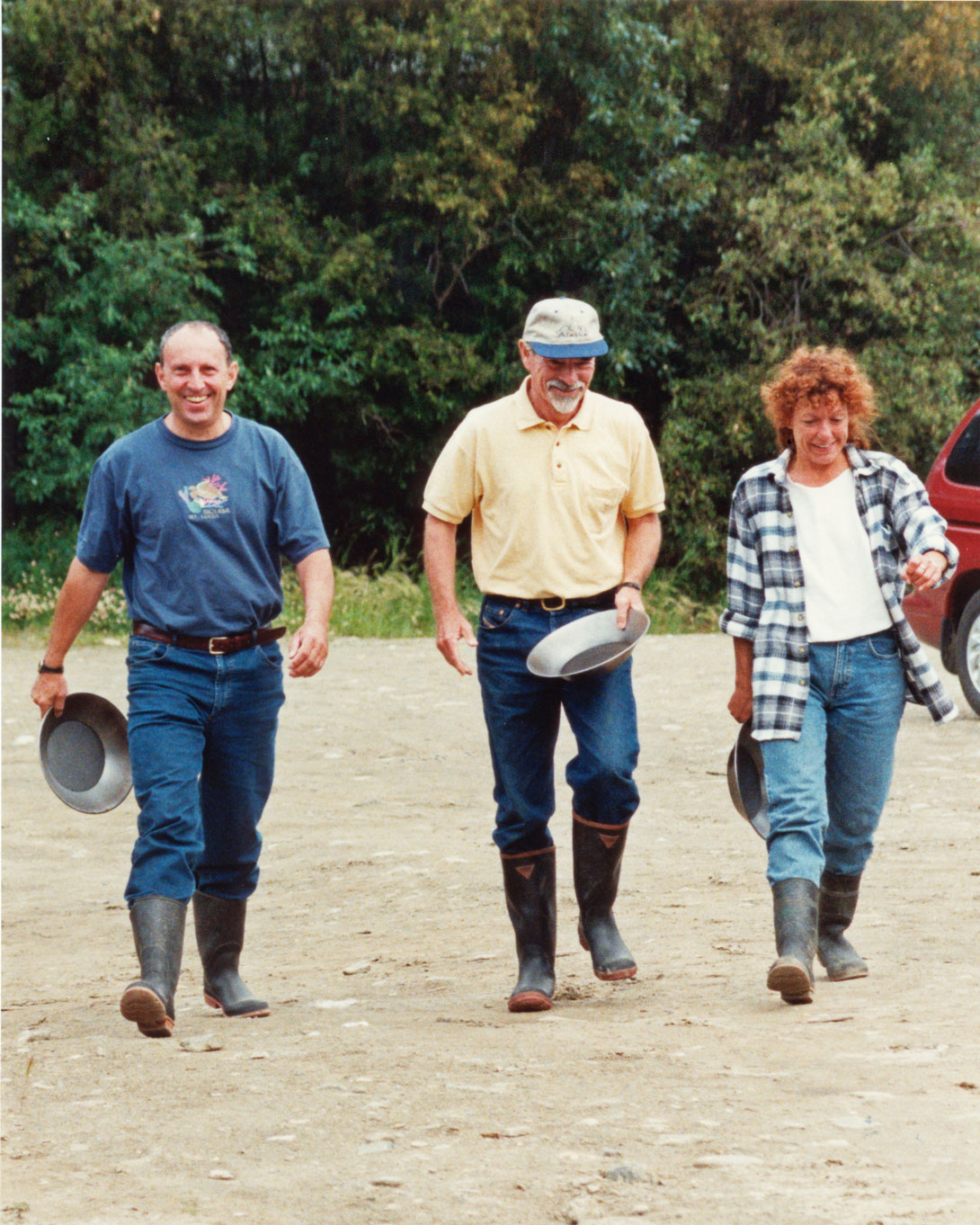 Nevertheless, the fun is great: with the overnight stay in such a hut you will be transported into the Klondike rush time and you will also feel that way. It is great. School is a long way away and - if you already have a burn-out syndrome - it is beneficial for the soul. In the photo you can see the red-haired miner who provided us with rubber boots, the necessary know-how and the irrepressible urge for gold and wealth.
If you understand all of this correctly, nothing can stop you. So march to Goldbottom Creek! As an experienced gold panner, you will of course also take a spade, a shovel and your Swiss Army knife with you. Incidentally, at Crow Creek in Alaska, I saw that the professionals also take lots of woolen socks, lots of cans of beer, a whiskey mug with a bottle, a magnifying glass and a hammer ...
For $ 45, you can wash all day and keep whatever you find. You will then quickly learn that real gold does not shine at all. Because everything that glitters is no Gold. When in doubt, just do the hammer test. If it splinters, it's not gold; when it goes flat, it's real. Gold is incredibly pliable and very heavy. Even the smallest platelets sink down between stones and mud.