How does an economic model fail?
Comment: Is Tunisia's democracy failing?
If Prime Minister Youssef Chahed is to be believed, 2018 will be the last difficult year for post-revolutionary Tunisia. The economic upturn is in full swing, the tourism sector is finally growing again. The current austerity measures and tax increases would be demanded by Tunisia's main financier, the International Monetary Fund, in order to reduce the government deficit of over six percent.
But many, especially young Tunisians, do not believe their head of government. They take to the streets, demonstrate and riot. Too often in the past few years they have heard slogans like this: another half a year, maybe a year, at most until 2020 and then all Tunisians can reap the fruits of the jasmine revolution of 2011 and finally live their dream of freedom, dignity and a job. Apart from the hard-won freedom, a dignified life with employment and a secure income remains unattainable for far too many Tunisians.
It remains to be seen whether the government's new concessions for poor families, the needy and the elderly with around 100 million dinars (around 33.5 million euros) will calm the minds.
Alleged friends
In order to master its problems, Tunisia needs one thing above all: money. Lot of money. The International Monetary Fund is granting loans amounting to 2.4 billion euros until 2020, but in return demands that the state withdraw massively from the economy and its role as an employer. However, this has devastating economic and social consequences - especially for the people in the structurally weak interior, which has always been neglected.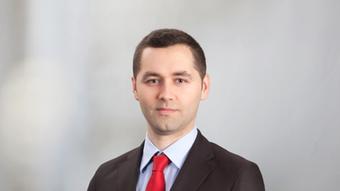 Bachir Amroune, Arabic editorial staff
There is no shortage of alternative proposals: The "Tunisia 2020" plan, for example, which President Beji Caid Essebsi had promoted at an international donor conference at the end of November 2016, promised good governance, conversion to an ecological economy and sustainable regional development for all parts of the country. Projects worth 40 to 50 billion euros were presented that would have given the country a massive and sustainable upswing. However, less than a third of the necessary money was promised. Even Germany is only involved with 300 million euros, although its politicians keep talking about the need for the economic stabilization of the only really democratized state after the Arab Spring. It is even more embarrassing that none of the announced funds had reached Tunisia by July, as reported by the Tunisian Economic Observatory.
The alleged European friends of Tunisia have been abandoning the country for years. In reality, they just pay close attention to their own interests: They secure lucrative access to the Tunisian sales and labor market without any real consideration. Instead, they are demanding more engagement from Tunisia in the fight against illegal migration to Europe. As if the country didn't have enough problems of its own!
Turning away from the ultra-liberal economic model
Faced with this hypocrisy, Tunisians must realize that they can only rely on themselves. The government must finally turn away from the ultra-liberal economic model it has pursued since independence in 1956. That is based solely on cheap exports to Europe and cheap mass tourism for Europeans. And invests exclusively in the coastal region, which is more profitable because it is more accessible. For a long time, this concept could be implemented well with the repressive apparatus of a dictatorship, but it is incompatible with a self-confident democracy that respects human and employee rights.
After several chaotic and incompetent governments in the wake of the revolution, the government of Youssef Chahed finally got serious about fighting the corrupt beneficiaries of this system. Last May she had Chafik Jerraya, one of the most influential oligarchs and close allies of President Essebsi, arrested, bypassing the judiciary. Since then, a power struggle has raged between the two sides.
Being a democracy on your own
The current protests come at the right time for Jerraya and Essebsi because now they can hope to get rid of the uncomfortable Prime Minister Chahed. He only has one chance: to play for a while. In order to calm the streets, he must quickly ensure that his austerity measures also affect members of his government personally.
The most important thing, however, remains that there are no further fatalities in the protests. The police are using their highly regarded hashtag # Don't_ destroy_your_country_Tunesia_ needs_you apparently more to communication than repression. This gives hope that after seven years Tunisian democracy has also changed the mentality of those who previously protected the dictatorship and its favorites. Only in this way does she have the chance to survive on her own - no matter how reliable her supposed friends abroad are.
You can leave a comment below this article. We look forward to your opinion!