In December, Andaman is overcrowded or not
India? Arrival and right in the middle!
Travel time: December 2010 - December 2011 | by Florian Sebrich
Andaman & Nicobar Islands
"A 3 day cruise is fun, an Indian cruise is tough!"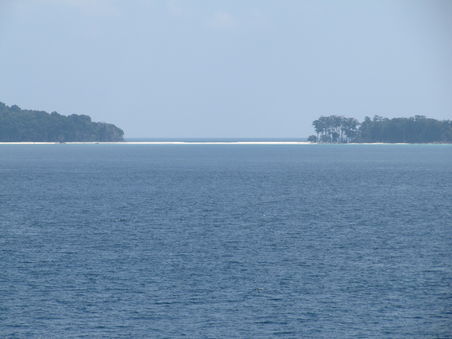 First blurry vision after 3 days: land!
Who would have thought? The Andaman Islands are only 8 hours by boat from Myanmar!
As a result, Burmese fishermen come ashore with their boats on the beach looking for help every now and then during storms (that's true) They are then intercepted by the Indian navy as illegal border crossers and then taken straight to the prison in Port Blair, where they spend 3 to 4 years must stop as a tourist attraction. (About the tourist attraction is a lie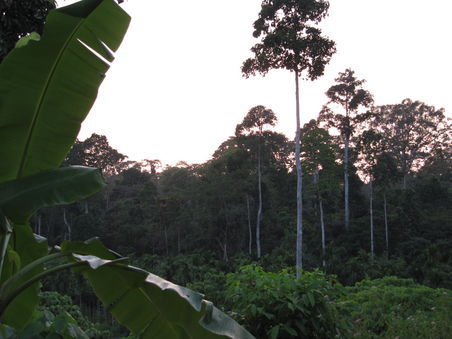 To "Elephant Beach" Havelock you first have to trample half an hour on an elephant highway across the rainforest.
Departure for the Andaman Islands
Since a few backpackers from all parts of the world had a chat at the bus station at the beginning of our flight from Chennai, recommended that if we had time to travel to the Andaman Islands, then we should do it as soon as possible. And what could be better than ending our south tour with a visit to tropical islands? Nothing! Except of course a buttered pretzel and a cool half. You are down to earth ...
First of all we started the ticket office of the "Indian Shipping Company". Find your link text here ... and get a ticket (1 day) Then to hear that there is a change in the timetable and the ship has already departed (loss of 2 Annoy). After that there is a shopping frenzy and waiting time in Chennai (2 days). When the day comes, don't be too early. Otherwise you will wait on the dusty roadside for a bus that will then bring you to the hermetically sealed port. With check-in madness at what feels like 38 ° C under approx. 800 to 900 people with x-raying luggage and a metal detector, after (1 day) you are on board one of the four ships from rusty to newly dirty. Then you are surprised to find that you are at sea for 3 days in a steel bathtub with just a few other Westerners among a bunch of Indians! (End of day total up to the Andamans = 7 days!) Flying would have been easier, but that's only for those who wear sunglasses. I also have to calculate the emissions and I wonder if 900 people can fit in a plane that uses almost as much as one of these ships?
No matter. We bought the cheapest ticket (almost 2000 rupees) and it was called "Bunk". So the bottom deck in the hull with bunk beds, the things with long antennae, light brown and with 6 feet. And it really is. Since it was just bustling with shit sheets! Nevertheless, after a while you come to terms with them and know that they only eat leftovers and tend to avoid people. You can also see from the top bed that they somehow have a social fabric. I mean, they talk in groups and tell each other the latest feeding places, or wonder if they have ever seen a white person like the one up there on the bed. But maybe it was the heat in the common bedroom that baked these thoughts into me ?!
There were also travelers from Australia, America, Estonia, Russia, Sweden and also 2 Germans from Marburg on the ship. That made a lot more bearable, because the Indian tourists on the ship mostly only wanted photos with you or a "small talk". But they were also bored, so that teenagers on the top deck in an empty swimming pool started playing blind cows. That was the event of the day. Ok, there was also the deep blue sea and the cloudless light blue sky, the jumping tuna and the countless flying fish that showed their fluttering properties.
The food was from the communal kitchen and there was sauce from the bucket on the rice. Ok, but after the 3rd meal with the same sauce it was too much even for the toughest vegetarians.
We and the other Germans had taken precautions and brought the delicious food ourselves. The other backpackers envied us for this and explained to us that we are really Germans (but maybe we read travel guides more carefully and take local advice)
On arrival in Port Blair, however, it was written on everyone's face that they were glad to have arrived. (The loud music competitions with the mobile phone, I liked the Indians best with the title song to "Titanic", and no Westerner could stand the rumgerotze either!)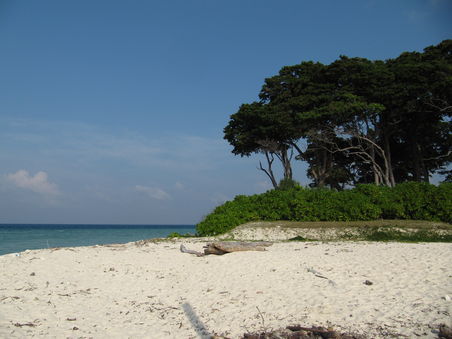 Neil Island: Beach 1 (Sunset Beach)
Next year the trees will be cut down and an island mogul will build a road to the beach where the poor footed tourists can buy a snack at the kiosk.
Neil Island
After days of refreshment and organization in Port Blair, we left at 6 o'clock in the morning for "Neil Island", with our tickets, which we had hard won the day before.
The island is so small that there are only 2 turns and a tarred road from the western to the eastern end. Most islanders therefore only travel around by bike or rickshaw. Only a few own noisy motorcycles and the ind Package tourists can be driven to the beaches in a few small vans (preferably directly). Because the sunrise and the sunset that you can see in one day is the best for them. For us Westerners, however, this is actually natural (!) The powdery white sandy beach (you want to bake a sugar cake with your own bucket and a shovel and put it in your mouth - oh, like in carefree days) and the breathtaking underwater world.
The Andaman and Nicobar Islands are among the most beautiful diving areas in the world. And then you ride a borrowed bike through a beaten path through the jungle to the beach and go snorkeling, or rush to the beach to listen to the parrots from the tall trees their "burrs". Snorkeling is highly recommended by everyone you meet and only practiced by the few western vacationers. Snorkeling equipment can be rented almost everywhere there. Well, you should clean your yellowed snorkels and glasses beforehand ... And then you step into the turquoise blue sea and suddenly see a whole brightly colored party party below! I don't even know how to describe the different fish and marine animals. Therefore "party company". Not like: "I'm going to the bar with a buddy" in the tropical aquarium at home. Only livelier, more colorful, warmer, hundreds of different sizes and in such different shapes and patterns that you no longer know where to look between the coral canyons and trees. If you really want to experience schools of tropical fish, lobster, crabs, octopus, rays, sea turtles and cuttlefish, then you should come here! There are also scuba dive centers on every island that can organize a day trip for you for little money.
But many come to the Neil Islands to see the "Dugong". This is the local name for one of the three manatees that search for seaweed around the island. And you can really meet them if you are lucky. Every day we met someone who was so overwhelmed by the size of the deep blue that they were more likely to run away and row to the beach.
The best time to really get something from the schools of fish and the really big fish (up to 3 meters), then you should go snorkeling very early in the morning or at sunset.
However, there is a downside to it all: 70% of the corals died in March 2010 due to an increased temperature in the water! So much for the "non-existent global warming". If you still don't believe in it, you can find out more here and take a look at the gray coral banks for yourself! However, a few corals are trying to recover. But from 10 meters everything is still intact. At least a glimmer of hope.
Do you know what the grotesque life on the island is? At first you are amazed and happy about the many fish and in the evening you feel like a delicious "Coconut Fish Curry"! I am one of the grotesque fishermen, yes. Where else can you get the freshly selected fish served directly from the small fishing cutter in so many variations on your plate? This is not meant to be bad, because the fishermen are also the ones who make a living from it and risk their lives for it.
First we were in Neil for 5 days. Then we are on Havelock because it was too full and all rooms were booked.
Overall, we were there for the longest time: 25 days, as we liked the relaxed island so much. Many locals also greeted us every day. For the last 20 days we slept in the rainforest garden restaurant "Moonshine" in the hammocks we had brought with us. Until the first monsoon rain woke us up. And it's really like a waterfall! We moved into our tent and it really stood up to the rain. Only the humidity made it really uncomfortable, as even frogs sought refuge.
We also had a family relationship with the employees of the restaurant and were allowed to fetch fresh mangoes from their trees.
We also celebrated the "Holi" festival. With this ancient Indian tradition, a colorful triumph for good versus evil is celebrated at the end of February or beginning of March. The social differences (caste system) are also broken down (once a year, 1 day!) And everyone is allowed to make new friends by hugging each other, smearing each other with colored powder and giving the children sweets. It was a lot of fun when 8 people, smeared with colored powder and water, jumped out of a little rickshaw and rubbed you on. I don't even know how many layers of paint were on me in the end, but it took 2 days to wash off ...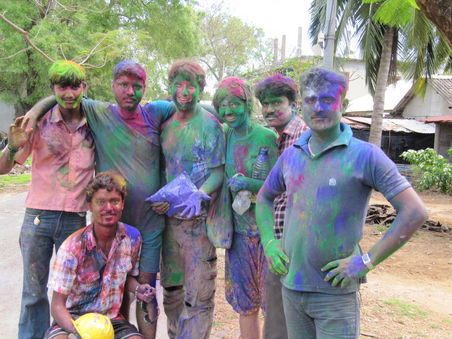 The Indian festival of colors "Holi" on Neil Island.
We with locals. I look like one of the tropic fish, only uglier!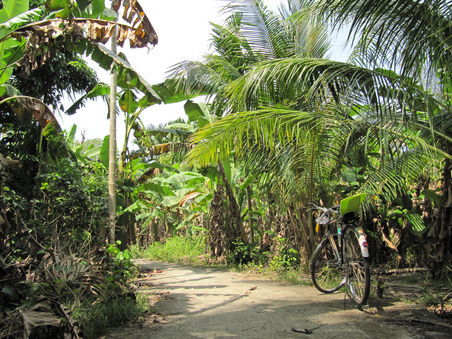 ...what can I say?
Havelock Island
Havelock, a tourist destination badly. Almost like in Goa. Here one resort after another is lined up on the beaches. The water is so shallow here and the water is really warm to sweat.
The hotels and resorts are of course on the best beaches and not far from the ship landing stage. There is also a bus from time to time to beach 7 and 5 (if no one has noticed, the beaches have numbers. That could be due to the unpronounceable Indian names, as stupid tourists don't have time to remember) Beach 7, Radhanagar Beach, we found it best because it was 7 km from the domiciles of the rich and crazy. It was also voted the "best beach in Asia" in 2004 and is now one of the world-class beaches. Your link text here ....
In 2006 a film with Johnny Depp was made and the islanders are very proud of it.
There is one thing they are not very proud of and immediately took action. On April 28, 2010, an American woman was dragged into the depths by a saltwater crocodile while snorkeling at "Neils cove" not far from Radhanagar Beach and drowned. More about the bloody Jurassic Park: Your link text here ...
A crocodile has never been seen here before. They usually only romp around the mangroves. But there aren't any and the 3.5m medium-sized hungry gecko has apparently lost its way. After this incident, all crocodiles were captured and dragged to the north of the Andaman Islands.
Over 20 people, Native American and modern Indian, are missing annually on Little Andaman. There is a sovereign territory of the bite and therefore attracts a lot of adrenaline surfers from all over the world.
On Havelock we thought it would be a good idea to rent a motorcycle and explore the island with blowing hair (I can't do it anymore, it's short again, because "i lost my hair in Port Blair"). Was very convenient too. But sometimes the stupid thing just went out or didn't start. Unfortunately, I didn't feel like repairing it, because 1. I left my toolbox at home, 2. It was a Japanese "HOnda Hero" with plastic parts, and 3. The Indians always had to prove that they knew their way around and started them again.
In addition, after a few nights it was too much for us in our bamboo hut next to our party-mad neighbors. There was loud techno music turned up in the middle of the night at half past two, so that even the in-house geckos squealed!
Furthermore, there was too much going on here that we longed for Neil Island.
But you can also get stuck on this island, as the two friends from the ship have proven to us.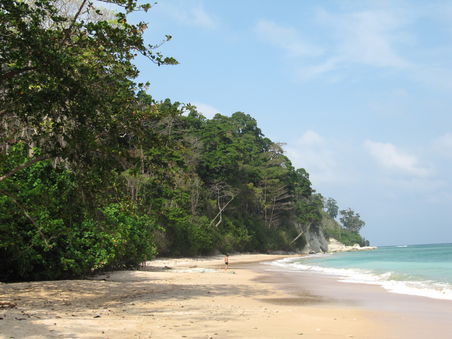 Only human!
Little Andaman, Long Island
Even more relaxed than Neil.
After organizing our return trip (maximum stay for non-children 30 + expandable 15 days) in Port Blair, we wanted to go to the Little Andamans, which are 8 hours away by ship to the south. Several acquaintances and locals have warmly recommended the small island to us. Not only because of the loneliness and tourist poverty, but also because of the good surfing waves! (yeah, finally surfing in swimming trunks !!!) So, and then the Indian unpredictability got in the way. The ship was fully booked with package tourists for the next 3 days and we had to start our way back in 5 days. So 1 day back 1 day and then explore the island, nahii!
The Andaman Immigration Service did not want to give us the 5 remaining extension days without a return ticket! And the next ship was just sailing on our last "permit day". A flight would have become too expensive in the short term.
So we are in the opposite direction to the northern Andamans on "Long Island". You have to remember that: You should argue a little with the officials at the ticket counter in Port Blair and you will get a ticket that is priced for locals. Then you can do the whole tour of Neil, Havelock and Long Island for only quarter price and just jump off the jetty at one of the islands! This can turn out to be clever as there is only an ATM in Havelock and the larger scattered towns ...
Long Island was then even more peaceful and somehow strange. There was only one nice backpacker accommodation, the "blue planet" and the associated restaurant. In the settlement itself you will find a lot of dilapidated wooden houses in, let me say, Canadian style and it looks more like a ghost town. Really quiet ...
It rained most of the time and we hung in our hammocks under a giant jungle in the center of the accommodation and read yellowed books.
Road from Rangat to Port Blair
On the last day of our stay in the northern part, we planned our drive back to Port Blair. It was supposed to go from Rangat by bus across the greater part of the islands, on a very controversial road to the south. The road is so controversial because it goes right through the tribal area of ​​the Jarawa people.
At a police checkpoint after crossing a river by ferry, we saw a few young men of this tribe for the first time. They look more African than Indian, are very small and, aside from travelers or shops, have surprisingly taken food and drink away to have a nice day. Funny people. After collecting the vehicles, buses, trucks, and taxis, in the Konfoi with a policeman in the lead, the road went through the Tarzan-like jungle as fast as possible. It had to be like that, because the most eventful, task-rich experience of your day was taking a ride with one of those smoking, humming, fast metal maggots and trying to jump up. The policeman has to throw her off the bus again at a stop! Really crazy how the Jarawas courageously waited on bends or corners for their wild companions ...
Oh yes, I saw two with a self-made backpack made of forest utensils, which their favorite dish contained a hunted Andaman pig. The animals have been at home on the island since Uuuuuur times, we were confirmed (maybe it was one of the Chinese "Jack Sparrow" s who left there a pastime, as so many pirates have already done elsewhere) After 10 hours! we then arrived in Port Blair.
... and everything back again. Because after a maximum of 30 + 15 days you have to leave the islands again as a foreigner.
Return trip
The ship was full! 1260 people on board and 99% bunk passengers like us. We have never felt like aliens for 3 days, shaking hands with almost every one of these passengers, saying hello, name, origin, occupation, and whether married or not, cricket, football club information or counter questions! But everyone was really nice and accommodating. In contrast to the islands, we had extremely little peace and quiet!
Stomach is empty and I have to feed him. That's why it's over!
What's the matter?:
It's about where the pepper grows from and why one learns more from a trip than from further training to become a "carpet tumbler" at home. Oh yes, if you have not yet followed a low budget wrong path, you should concentrate mainly on the rhythm, i.e. the time of the country. So relax and not run around like a package tourist! Time out! Basta! Greetings to all my amigos / amigas
Details:
| | |
| --- | --- |
| Departure: | 07.12.2010 |
| Duration: | 12 months |
| Homecoming: | December 2011 |
Destinations:
India